Playdough Recipes For Bold-Colored, Super Soft DIY Dough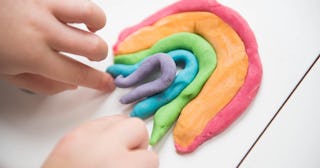 Is there a smell that can conjure as much nostalgia and as many memories as Play-Doh? The pliable, bold-colored putty has actually trademarked that signature smell. It's described by the company as "slightly musky, vanilla-like fragrance, overtones of cherry, and the natural smell of a salted, wheat-based dough." Buying the "real stuff" is nice. However, you can also make it yourself.
While DIY dough may not hold that oh-so-memorable smell, it's still just as much fun to play with. And, as a bonus (maybe) following these recipes and making your own is a great way to take up a rainy summer afternoon. Interested? Check out these simple recipes and remember that you can always add a drop or two of essential oils to give your dough its own unique smell. There are actually several versions of the playdough recipe. This one is our favorite because it's super simple and fast, plus it's easy to alter.
DIY Playdough Recipe
Recipe
1 cup flour
2 tsp cream of tartar 1/2 cup salt 1 tbsp cooking oil Olive oil or vegetable oil 1 cup water food coloring
Instructions
1. In a bowl, add all your dry ingredients and mix well.
2. In a pot, mix your water and desired food coloring and mix completely. Then add the oil. 3. Add in dry mix. 4. "Cook" over low-medium heat until your dough starts to form. It will dry out significantly and begin to ball up on its own as you stir. 5. Remove from heat and allow to cool. 6. Once your dough has cooled completely, knead for several minutes in order to soften the dough. Tip: If your dough remains stiff, continue kneading or add more oil a teaspoon at a time (kneading between each addition) until you reach the desired consistency.
https://www.instagram.com/p/B-fFKbyFbXI/?utm_source=ig_web_button_share_sheet
Liven It Up
Looking for ways to make your playdough extra special? Try any of the following additions…
Kool-Aid
Adding two packs of Kool-Aid per batch, instead of food coloring, will give your dough a bold coloring and the hint of a smell. Note: Use the sugar-free kind to avoid a sticky disaster.
Christmas Playdough
For this option, you'll make three batches in the typical Christmas colors: Red, Green and White. For the red batch, add some peppermint extract for a perky candy cane smell. Add vanilla extract to the white batch for a smell that resembles fresh-baked cookies. Yum!
Sensory (or Aromatherapy) Dough
What's the difference between regular playdough and sensory dough? Not a whole lot. Some dough has been kneaded more or less to create different textures. Many people also add in essential oils to their sensory dough. Using citrus oils can improve concentration — perfect for when your little bug is kneading their dough and studying. Adding lavender oil will offer a calming effect — consider handing this over when your kiddo is on the verge of a meltdown.
Super Vibrant and Colorful Playdough
The Ottoolbox's Crayon playdough recipe results in the most colorful, incredibly vibrant playdough you and your kids will want to play with for hours. Here's all you'll need:
2 Tbsp oil
2 and half-broken crayons (each color) 2 cups water 3 cups flour 1 1/2 cup salt 2 Tbsp. cream of tartar
Read the rest of the recipe, here.
Edible And Super Lumpy Last-Minute Playdough
Sometimes you need a quick fix to entertain your little heathens while you get some last-minute WFH assignments done. While there's not exactly anything hard about the playdough recipes above, they require heat and several ingredients that you may or may not have. Oatmeal Playdough might be the answer. Just mix…
1 Cup Flour 2 Cups Oatmeal In a bowl, then gradually add about one cup of water. Stir (and eventually knead) between each splash of water until you get the right consistency. You can dye this dough with food coloring (or coffee grounds!). Or you can leave it natural. The oatmeal will leave it chunky and different to feel between the hands. The potential addition of coffee will add grit and a lovely smell. Both of those factors make this dough the perfect accidental sensory exercise. And, don't worry, it's still moldable.
https://www.instagram.com/p/B34f4TMFXdh/?utm_source=ig_web_button_share_sheet
Storing Your Dough
To keep your doughs soft and long-lasting, look for an airtight storage option. A Ziplock bag will work in a pinch. So will the extra small-sized Gladware containers. (Think: The size you use for salad dressing or dip.) Finally, what's more perfect for storing your dough than actual Play-Doh containers? After all, you already know they were made to do the job. When your store-bought stuff dries out, save the containers to use for your DIY dough.
Playdough Activities
Now that you've made your playdough, what can you do with it? There are so many fun activities you can do with your playdough. These are a few of our favorites.
Make Fossils
Smoosh out some playdough and show your kiddo how to push objects into the dough to make a print. If you use shells or rocks, it could be a great science lesson. You could also use lace or other textured fabric just for the same of making fun patterns.
Turn Your "Fossils" into Stamps
Once your kids press fun shapes into your dough, let them sit out overnight and dry. The next day's activities could be to make prints/patterns with ink or paint using the stamps they created the day before.
Play Kitchen
Whether you have fun presses or tools or not, you can still make play food using your dough. Take turns ordering food from each other and crafting it out of playdough.
Make Snakes
Rolling out your playdough is a great activity for working on hand-eye coordination, gentle and firm pressure gauging, and other sensory issues. Once your child has created a long snake, give them plastic utensils to practice cutting.
Dig for Buried Treasure
Arggh, matey! Let your little one channel their inner pirate as they search for treasure "buried" in the playdough. You'll want to watch any kiddos carefully with this activity to ensure no tiny treasures wind up in little mouths, of course.
Practice the Alphabet
Helped your kids mold the dough into letters of the alphabet, which you can then use to practice learning and spelling words. Alternately, you can mold the playdough into letters, then have your little one create items that represent that letter. So, if they formed an "A," you might have them mold an apple or an ant. Fun and educational!
Playdough Dress-Up
Gather together some of your kids' plastic dolls or action figures (pretty much anything that won't get super-messy). Then, let your kiddos create new outfits for the dolls using their playdough. The more imaginative, the better.
This article was originally published on