10+ Gross But Silly Poop Songs To Sing With Your Poop-Obsessed Potty Trainer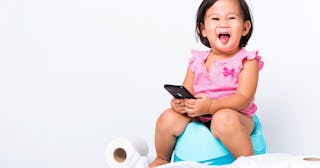 Sorapop/Getty Images
Why is poop so fascinating to kids? Our best guess is because they've spent their entire lives thus far watching their parents grimace at the smell and sight of a fully-loaded diaper. That stray turd from the cat box (or the training potty) gets us every time, too. It's impossible not to react, and our kids love seeing us react. While we certainly don't want to do anything to scare them away from using the potty, we're also not keen on the idea of our mini-mes choosing to sing the diarrhea song in the middle of a busy restaurant. So, how do you discourage it? The truth is: You can't. Kids are kids. They're sweet, adorable, disgusting tiny humans who take joy in all the things grown-ups find repulsive. With that in mind, maybe the best way to ease your kiddo's obsession with poops is to embrace the poop jokes and sing along with the poop songs — because everyone knows that once mom likes it, it's no longer cool.
And, if you're potty training, poop songs have a bonus: They're a great way to keep your toddler glued to the pot for a few minutes while they "try." Just like singing "Happy Birthday" when you wash your hands, having a song (or two) to sing while you wait for them to do their business can help them learn how to stay put in anticipation of some action from their backend.
We cannot guarantee that your kid won't teach these songs to everyone in their preschool class. We can, however, promise that if you grin your way through these songs for a while, they'll soon forget about how funny poop is and move on to something else. Probably boogers.
Poop Songs for Your Potty Training Toddler
1. "Let's Poop in the Potty" — JunyTony
This song is perfect for potty training — especially when you have a kid who understands peeing in the toilet but is less inclined to poop in one. It's cute and silly but gets the point across: Poop goes in the potty.
2. "Elmo's Potty Song" — Sesame Street
Another option when potty training? Turn to your kid's favorite monster: Elmo! Elmo's dad is so funky, and this song has a much different vibe than many other kids' songs. The bluesy sound almost sounds adult-like. That might not appeal to all kids, but it'll certainly appeal to some.
3. Daniel Tiger's Potty Song
If Elmo can't seal the deal, there's always Mr. Reliable: Daniel Tiger. This jam is especially significant because it teaches two vital potty training lessons. First, it teaches kids to be aware of their bodies and notice for themselves when they're wiggling and doing the "potty dance." Second, it reinforces the idea of not waiting. Prince Wednesday, Daniel, and their friends are all having fun playing. But when it's time to potty, they know they need to stop and go to the bathroom immediately. This is a great little tune to sing after an accident.
4. "I Can Pee and Poop on the Potty" — The Kiboomers
Does this melody sound familiar? It should! It's basically "Apples and Bananas." While finding new and unique songs to sing certainly is fun, relying on a familiar tune can help your kids pick up the song faster and, thus, learn the steps to use the bathroom even quicker.
5. "Let Me Poop" — A Frozen Parody
Speaking of familiar tunes, your tiny Frozen fan will love, love, love this poop-themed parody of "Let It Go," complete with farting noises. Just take note: This one is considerably grosser than the previous songs on our list.
6. "Everybody Poops" — Koo Koo Kangaroo
Guys. What?! This song is hilarious in and of itself, but when you add in the video, the whole thing gets way more interesting. This group (who look like everyone's favorite cool uncles) does the dumbest, most fun dance moves while being green-screened onto a toilet seat. And, just in case you didn't know, moving around can actually help get things, you know, moving.
7. "Do a Big Poo" — George and the Giant Pledge
This jam might just be our favorite. Not only does it come with even more farting noises, but it's also got a chipper beat that's easy to clap along to when you sing. A few spins through and you'll no doubt be accidentally singing this in the pick-up line all by yourself. It's our most favorite poop song to date.
8. "The Potty Song" — Pinkfong And Hogi
From the team that brought you "Baby Shark" comes a super-simple how-to song about using the potty. And, yeah, they really are singing "poopy poopy poopy poop." Whatever. It works.
9. The Diarrhea Song — Parenthood
Oh yeah, you know this song. It's an oldie but a goodie. And, quite honestly, it's pretty much endless. If you can come up with a euphemism for poop, you can sing another verse.
10. The Potty Song — CoComelon
CoComelon does a fantastic job of making poop cute and relatable. The lesson comes from an older brother who explains to his baby brother how to potty. Not only is the song catchy, but it's also a great reminder to kids that even when they're playing or having a good time, it's important to drop what they're doing and head to the toilet to avoid any accidents.
11. Sitting On The Potty — Kids Songs/Super Simple Songs
If you are looking for a step-by-step video that details the intricacies of pooping for your toddler, this is the one. This song starts from the beginning, from the urge to poop, getting on the toilet, all the way to washing their hands. It's a short and simple song, but it gives kids a quick once over of what to do. Think of it as a refresher video.
12. Potty Training with Steve and Maggie
Nothing inspires children more than an enthusiastic human and their cute animal companion. This video has simple instructions that help make the song understandable and provides a clear potty training rundown. Using his pet magpie, Maggie, Steve explains to kids how to use the bathroom. The song is super straightforward, and the video offers tons of colorful and engaging background.
This article was originally published on