The 6 Best Postpartum Leggings For The Comfiest 4th Trimester
We only recommend products we love and that we think you will, too. We may receive a portion of sales from products purchased from this article, which was written by our Commerce team.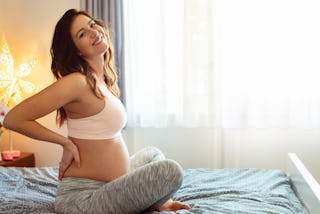 Zukovic/E+/Getty Images
All moms need and deserve support. Period. For postpartum moms, in particular, the literal support of an awesome pair of postpartum leggings cannot be replaced. And those pre-pregnancy leggings won't cut it. That's why postpartum leggings are specifically designed with features like ultra-high waists and compression materials that help support both the abdominal and back muscles. But finding the right pair isn't always easy, especially if healing from a C-section. Scary Mommy reached out to Nikki Greenaway, a family nurse practitioner, to find out what to look for when shopping for the best postpartum leggings.
The Expert
Nikki Greenaway, FNP-C, IBCLC, is a board-certified family nurse practitioner and an international board-certified lactation consultant at Bloom Maternal Health in Houston, Texas. She is also a mom of three with a passion for postpartum care.
What To Look For When Shopping For The Best Postpartum Leggings
According to Nikki Greenaway FNP-C, IBCLC, when shopping for leggings, fit is everything. "You don't want it to be too tight. Tighter is not better and it doesn't make you recover faster. [Instead, you may] increase your discomfort and actually do more damage than good." Instead, you'll want the compression to feel "like a snug hug around the abdomen." While Greenaway recognizes that the path to healing is an individualized process, she recommends adding postpartum leggings to your routine slowly, starting with active hours when there's increased movement and bending.
For women recovering from a C-section, Greenaway noted the importance of taking extra precautions and keeping a close eye on the incision area. "Look out for signs of infection: redness, swelling, drainage, or increasing tenderness," said Greenaway.
Even with these considerations in mind, Scary Mommy always recommends checking in with your own doctor so that you can find the right attire for you and your particular postpartum needs.