25+ Baby Girl Names That Are Effortlessly Cool
When you want something with a certain je ne sais quoi.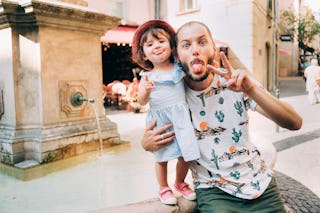 Westend61/Getty Images
Let's be honest: Everyone wants their babies to grow up to be the cool kids. Not in a superficial way, but in the sense that parents want their kids to feel confident, be inspiring, and have their own personal aesthetic that just sort of makes them stand out from the crowd. It makes sense then that when you're trying to figure out what you want to call your future individualist, cool girl names are at the top of your list.
So, what makes a cool baby girl name? It goes without saying that cool is a very subjective thing. Ultimately, it comes down to what feels cool to you. But, generally speaking, a cool baby girl name just has that vibe. It's softly feminine yet confidently fierce like Tessa or Cleo. Or it can subvert gender boundaries and rock its tender toughness like Fallon or Tobi. Cool baby girl names can also be traditional and embrace that timeless vintage essence — think Ava or Maude. Of course, this type of name can also be beautifully bohemian, like Jade and River.
If you're considering a cool baby girl name for your new bundle of joy, peruse the list below and see which one stands out and feels "cool" for your baby.
This article was originally published on