Khloé Kardashian Wishes 'Someone Was Honest' About The Surrogacy Experience
The reality star says the experience felt "transactional."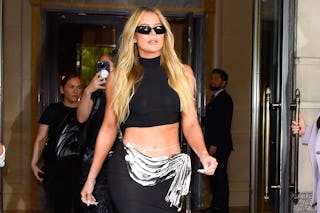 Raymond Hall/GC Images/Getty Images
In a lot of ways, surrogacy seems like an amazing option for having kids. You get to skip nine months of body-altering pregnancy and a possibly painful labor, all while continuing to enjoy glasses of wine and non-microwaved lunch meats. But on Wednesday night, on the Season 3 premiere of The Kardashians, Khloé Kardashian opened up about her challenging experience with the birth option.
"Kim said hers was easy. This is not easy," she admitted on the opening episode of the show, alluding to her sister's two surrogacy experiences.
Later, in a confessional, she elaborated on her feelings, stressing that she felt guilty and shocked at points — and that the experience felt "transactional."
"I definitely was in a state of shock from my entire experience in general," she explained. "I felt really guilty that this woman just had my baby. I take the baby and I go to another room and you're sort of separated. It's such a transactional experience 'cause it's not about him."
"I definitely buried my head in the sand during that pregnancy that I didn't digest what was happening," she continued. "I think when I went to the hospital, I think that was the first time that it really registered. I think it has nothing to do with the baby."
"I wish someone was honest about surrogacy and the difference of it," she concluded. "But it doesn't mean it's bad or good. It's still great. It's just different."
Later, talking to Kim, she said, "It's a mind f*ck. It's really the weirdest thing."
Khloé welcomed her son, Tatum, via surrogacy with ex-boyfriend Tristan Thompson in July 2022. The pair, who began their on-again, off-again relationship in 2016, also have a daughter, True, who was born in 2018, not via surrogacy. The experience of having Tatum was complicated by a cheating scandal and subsequent break-up with Kardashian — all before the surrogacy and baby were announced publicly.
Kardashian kept the name of her baby a secret until last night's series premiere.
Kim Kardiashian and ex-husband Kanye West used two surrogates in the past, for children Chicago and Psalm, who were born in 2018 and 2019, respectively. They made the choice after Kim suffered a pregnancy complication and could not safely carrry future pregnancies without health concerns.
In 2021, Kim told Khloé that surrogacy was "the best experience," continuing, "You know what giving birth feel like. I always say if you can do it, it's such an amazing experience, but you'll see that the love you'll have for your kids is exactly the same. There's no difference except there was someone else that was the carrier."
While Kim was concerned about being connected to Chicago when her surrogate gave birth, all of that fell away when she saw her baby.
"She came out and I knew she was, like, my twin," she said on Laura Wasser's "All Fair" podcast in 2021. "So I was like, 'OK, God really did this to show me that I'm connected with her.' Because I was so worried at first."
You can watch Season 3 of The Kardashians every Thursday on Hulu.