A Mom Planned Her Pregnancies To Ensure Her Kids Were Born With The Perfect Zodiac Signs
"I got my perfect Pisceans."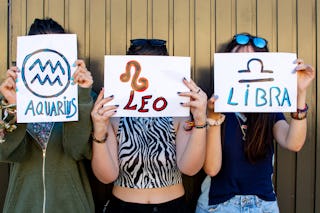 Crispin la valiente/Moment/Getty Images
It's not exactly out-of-the-box thinking to try and plan the timing of a pregnancy. Maybe the pregnant person doesn't want to be slogging through a hot July summer 40 weeks pregnant, or maybe the soon-to-be parents don't want their kid's birthday landing right near Christmas. These make sense. I can wrap my head around this.
However, now it seems that some parents aren't just considering seasons or holidays when it comes to the timing of a pregnancy. According to Metro.co, some keep astrology in mind, believing their baby will grow up with personality traits that are reflected in their Zodiac sign.
Yorkshire psychic and mom Inbaal Honigman planned all four of her children's star signs so that they would perfectly align with their personalities and help them all coexist together.
"I wasn't raised in an environment that was open to spiritual ideas, and when I was 20, I accidentally stumbled onto Tarot and loved it. Practicing Tarot readings and learning the spiritual world fascinated me, and one of the most attractive parts in learning Tarot was how the different elements, earth air fire and water, responded to one another. Star sign compatibility has fascinated me ever since,' she explained to the outlet.
Children wasn't the first relationship she considered basing off of the Zodiac. In fact, Honigman said when she was looking for a partner online, she filtered through online dating profile matches based on compatible signs.
"In 2005, I set up a dating profile, and one of my criteria was that they had to be Pisces or Sagittarius. Not only are they my favorite signs, but I thought they'd be my most compatible signs," she explains. "I'm a Pisces and would have loved someone my own sign, and I have my moon Sagittarius, so I thought a Sagittarian would be compatible with my more adventurous, fun loving side. I met my husband, Sean, this way – he's a Pisces with Sagittarius rising and we were a wonderful match."
After a couple years of marriage, the two started trying for a baby. Honigman admitted that she struggled to get pregnant at first until a fellow psychic suggested she try some manifestation techniques.
She continued, "I struggled to conceive, so I'd have been happy with any baby. But, in one of my many conversations with friends and colleagues, a fellow psychic suggested that I send my husband a Father's Day card from our unconceived baby. That was June 21 that year, which coincided with the Summer Solstice, a traditional day of conception, and I thought, if we conceived right now, it would be a Pisces. I loved the idea so much – a happy family of three happy Pisceans!"
The couple ended up conceiving and the baby's due date was, in fact, in Pisces.
After the baby's due date came and went, she was offered an induction. However, she wanted to try and hold out without intervention. She knew how important it was to her to have her baby be born in Pisces.
"I was offered two induction dates, one would be in Pisces and the other in Aries. Even though I wanted to wait for her to arrive naturally, my desire for a Pisces baby made me pick the earlier date," she said.
"I was absolutely elated to get my Pisces baby, I was relieved, as I know Pisces so well and what makes them tick. I felt that I could be an amazing mom to this baby, there's nothing about Pisces I didn't know, and I was thrilled."
As Honigman and her husband began to have conversations about growing their family, she conceives again during a time so her second child would also be a Pisces.
However, her third pregnancy in 2015 resulted in a Capricorn son — a star sign she did not necessarily want in her family.
"Originally a twin pregnancy, the due date was in Capricorn season, which was never on my wishlist. If I'd delivered as a multiple, I'd have had a caesarean scheduled for Sagittarius, and I adored the idea of two Sagittarius babies together," she explained.
"Only one twin made it, and he's a Capricorn, but he's perfect. I've searched my soul for any signs of regret or sadness that he wasn't Sagittarius, and there are none. He's a gorgeous, smart and sassy child, and I wouldn't change him for the world."
Her fourth child arrived in 2017 – another Pisces, born on the same day as their first child, who she jokes arrived "nice and Pisces, just the way I like them!"
Honigman recognizes that "planning" the timing of a pregnancy doesn't always workout the way you want it to – especially as only 5% of babies actually arrive on their due date.
"Even if you get exactly what you asked for, you may not get what you want,'" she said
"I planned my Pisces babies specifically to avoid Aries babies. Some of my favorite people are Aries, but I didn't think I'd be a great mom to a boisterous, overactive baby like an Aries. I got my perfect Pisceans, but they do all have strong Aries placements in their charts, which means they're all boisterous and overactive despite being Pisces."