Written In The Stars! 20+ Zodiac Names Based On Baby's Astrological Sign
Ideas for your little constellation of perfection.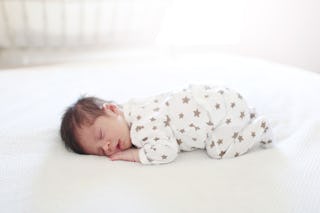 Catherine Delahaye/Getty Images
When it comes to choosing the perfect name for your baby, there are many avenues you might want to explore, including everything from family to your favorite TV show to even looking to the stars for some inspiration. Astrology is a fun and fascinating self-discovery tool, and even if you don't put a whole lot of stock in astrology, the zodiac, along with its connected planets and constellations, could offer some ideas on what to name your newborn.
It could be something as obvious as naming your baby boy Leo if he's born underneath the lion sign. Or you might consider the name Archer, the symbol for a Sagittarius. Luna is another pretty name that's perfect for a Cancer, which is ruled by the moon.
As you can see, there are a number of unique options when it comes to selecting zodiac names for your baby. Scroll the list below and decide which mystical name resonates best with you.
This article was originally published on