10 Baby Names Inspired By Popular Songs
Hear it, sing it, love it, use it — musical names can be very inspiring when you're expecting a baby.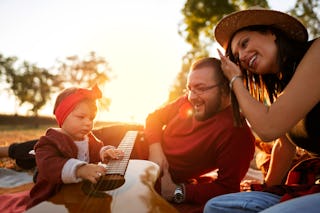 SrdjanPav/Getty Images
When I listen to David Bowie sing about "Blue Jean," I want to be literally named Blue Jean. I mean, I'm glad I'm not, but he definitely makes it sound appealing. The only song that features anything close to my actual name is Rick Springfield's "Jessie's Girl," which people used to sing at me back in high school even though Jessie was a boy in that narrative. (And Jessie is a great boy's name, IMO.)
Songs can be inspired by names, and on the flip side, songs can inspire baby names. In fact, if you're looking for baby name ideas, you could just open up Spotify and start listening for names that grab your attention.
Names in songs often roll off your tongue and sound musical, so they're almost always great fun to say out loud. Think of Phil Collins' "Sussudio," which is a nonsense name but a blast to say. Fortunately, there are plenty of choices that are melodious without being that odd. If you're a music-loving parent looking for a lyrical-sounding name for your little maestro, you can't go wrong with these 10 chart-toppers.
Keep listening to tunes to find more baby-name ideas. Or check out our list of musical baby names if you just want something that's music-adjacent. One more tip: The name Song is not in the top 1000 for either gender, so that is available to you as well. Your baby is a tune all their own!