25+ Brilliant Names That Mean Gold For Your Little Ray Of Sunshine
Because baby will bring so much richness to your world.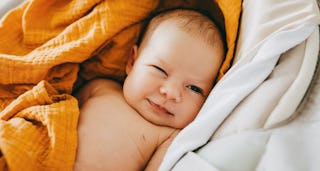 Shutterstock
People often refer to babies as a "ray of sunshine," and it's not hard to understand why. The first time your baby smiles at you, when they toddle toward you with their dimpled hands outstretched, when they say their first word (especially if it's "mama") — it all feels like sunshine on your face. OK, maybe not all the time. Admittedly, babies sometimes feel more like little storms of tempers and tears. But they bring so much joy and warmth into our lives that the expression "ray of sunshine" still wins out. When you're trying to come up with a name for your little one, you might want to capture that feel-good, sunny essence. And an easy way to do so is by choosing a name that means gold.
When you consider the definitions for the word gold, this naming inspiration makes even more sense. Merriam-Webster defines gold as a "precious" metal that occurs naturally in "pure form." It also describes gold as "something valued as the finest of its kind." Sounds like babies! If you feel the same, this list of baby names that mean gold might just hold a brilliant moniker for your very own ray of sunshine.
From Aurelie to Zarin and everything in between, names that mean gold perfectly capture the way babies make you feel: like you've got your own little golden ray of sunshine.
This article was originally published on