27+ Names That Mean Night As Stunning & Intriguing As The Evening Sky
You'll thank your lucky stars for these options.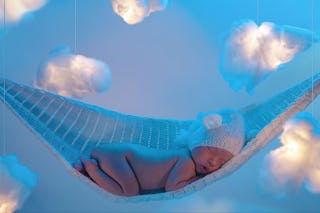 Shutterstock
Do you love the magic of night? Maybe you revel in its stillness, or you enjoy admiring the moon. Or perhaps your little one was born at night and even has dark eyes and hair that remind you of a gorgeous night sky. These represent just a few (all good) reasons you may be searching for names that mean night. Naming your baby can be a tricky decision. You want it to be just as special as your new bundle of joy and one that fits them perfectly. Well, choosing something that nods to the night sky could be exactly what you need. That inky expanse above has beauty, intrigue, drama, and wonder galore — all things you'll surely come to associate with your offspring.
There are many different ways to symbolize the night, whether it's stars and constellations, the purity of darkness, or a black sky. You might also go with a name referring to dusk, which everyone can agree is pretty close to nighttime. Names that mean night are wonderfully enigmatic. So, if you suspect one could be the perfect match for your baby, you're probably right. Keep reading to find "night" names that truly stand out.
There could be many reasons you're considering names that mean night for your child. As you can tell, there's no shortage of beautiful options. From short and simple to total conversation starters, there's a night-inspired name here for everyone.
This article was originally published on