70+ Southern Baby Boy Names That Capture The Magic Of The South
From Atticus to Ulysses, these names are perfect for tiny gentlemen.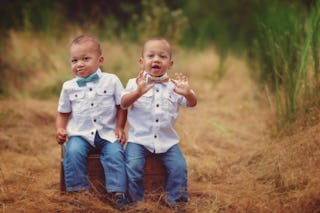 sarahwolfephotography/Getty Images
There's nothing quite like a southern name. When you think of the South, what comes to mind? Long dirt roads, lazy rivers, vibrant cities, and people passionate about good manners and hospitality. There's just something special about the South that flows through every part of its modern culture, including the names popular in the region. When it comes to southern boy names, you have plenty of options for giving your little boy a charming moniker.
You can embrace the South's nature vibes with names like Wade and Ford, or you can look to pop culture for inspiration. There are plenty of literary names — including several inspired by Alabama author Harper Lee's To Kill a Mockingbird — and you'll also find inspiration from movies and TV shows set in the South. Are you more into place names? There are plenty of those too. While place names more often suit little girls, some of the South's most famous cities double as baby boy names.
Whatever name you choose, just make sure it evokes the best parts of this unique part of the country. With its welcoming spirit and stunning natural landscapes, the South is a special place full of inspiration for parents seeking the perfect name for their tiny southern gentleman.
Southern Baby Boy Names Full of Charm
Abel: Abel is a biblical name that means breath or vapor. So if you're looking for a religious name with a southern twang to it, this is a great choice.
Ashton: Of old English origin, this name means "from the ash tree."
Andy: Andy isn't just a nickname for Andrew. On its own, Andy means "man or warrior." And while it's Latin in origin, it brings to mind classic southern actor Andy Griffith.
Atticus: The beloved fictional lawyer at the center of Harper Lee's novel To Kill a Mockingbird is named Atticus Finch. Thanks to the character's commitment to fighting for justice, Atticus remains a popular choice for southern and non-southern parents alike.
Augustus: Meaning "great" or "magnificent," this powerful name is Latin in origin.
Austin: The hippest city in Texas doubles as a charming boy's name meaning "great."
Beau: A fitting name for any baby boy, Beau is French for "handsome."
Bentley: A true unisex name, Bentley means "meadow with coarse grass."
Billy: Billy can be short for William or stand on its own. It means "resolute protection."
Bo: The perfect choice for a little cowboy, Bo is an Old Norse name that means "to live."
Boone: Meaning "blessing" or "lucky," this is another name that would be perfect for any little one with an adventurous spirit.
Bradley: An English name meaning "wide meadow."
Braxton: There's simply something about "ton" names in the South. Braxton means "Brock's settlement," but its southern twang has made it a fast-growing favorite in the United States.
Brooks: This English name means "of the Brook," but for country music fans, it will forever be associated with Brooks and Dunn.
Buck: While it's not as popular as it once was, this vintage nature name (it means "male deer") nostalgically evokes the South.
Buddy: Traditionally, Buddy is a nickname, but the casualness of it is what makes it such a sweet given name. The informal word for "friend" is a particularly popular nickname in the South. (And the name of an unforgettable character in the iconic southern film Fried Green Tomatoes!)
Caden: This Irish name means "Battle."
Cash: Johnny Cash is one of the most famous country music singers of all time. If you think you have a ramblin' man on your hands, Cash is the perfect name for your little one.
Chase: A name of French origin, Chase means "to hunt."
Clayton: Meaning "boundary with clover," you can shorten it to Clay for even more southern flair.
Clyde: This outlaw name has Scottish roots, but its earthy sound makes it a favorite in southern states.
Colt: Colt is steadily rising in popularity, perhaps for the way it evokes the outdoors. After all, a "colt" is a young horse.
Colton: If Colt feels too short, you can always go with the more formal Colton, which means "from the coal."
Crew: Follow HGTV favorites Chip and Joanna Gaines' lead and give your little one this uniquely American moniker.
Dallas: While many place names seem better suited to girls, Dallas, which means "skilled," is perfect for boys.
Darius: Darius Rucker is one of the biggest modern country stars around. Honor the South Carolina native by naming your little one after him. As a bonus, Darius means "possessing goodness."
Darryl: Not only is Darryl one of the most enduring characters on The Walking Dead, but he's also a true southern gentleman of the apocalypse. As for the name Darryl, it may sound old-fashioned, but it has a lovely meaning: "dear one" or "beloved."
Deacon: This church-related name is from the Greek, meaning "messenger."
Dean: This name screams cool even though it technically means "church official."
Duke: Duke is a term for English nobles, but stateside it's rooted in the South, where it brings to mind everything from John Wayne to some truly delicious mayonnaise.
Emmett: With its roots in the Hebrew language, Emmett means "universal."
Finch: Atticus may be the more popular option if you are naming your son after To Kill a Mockingbird's Atticus Finch, but don't overlook Finch. In addition to its literary roots, it's also a nature name that's still rare enough to let your baby stand out.
Finn: Throw it all the way back to Mark Twain's Adventures of Huckleberry Finn with Finn, an Irish name meaning "fair."
Ford: Whether you love the vehicle or the name's country style, Ford has an irresistible southern ring to it.
Forest: From Tom Hanks' kind-hearted big-screen character Forrest Gump to the many forests that make the South so beautiful, Forest is a charmingly rustic little boy's name.
Garth: Nashville star Garth Brooks ensured Garth will forever be associated with the South. The Norse name means "groundskeeper" or "enclosure."
Gatlin: If you live in Tennessee (or simply love the state), Gatlin works as a short form of Gatlinburg. It means "wandering man."
Gentry: There's an undeniable country ring to this name that means "aristocracy."
Grant: Not only does Grant make a good first name, but it could be a perfect middle name for your bouncing baby boy. This French name means "tall" or "large."
Harlan: A county in Kentucky, Harlan also makes for an unexpected southern name meaning "rocky land." Plus, it's pretty darn close to the first name of KFC's Colonel Harland Sanders!
Harley: Bringing to mind motorcycles and hitting the road, Harley means "hare clearing."
Harper: Give author Harper Lee her due by naming your little boy after the famed writer.
Hawk: Sharp and resilient, Hawks are often found in the South, making this an appropriate nature name for your little southerner.
Houston: Yup, here's another Texas town that doubles as a terrific (and unique) name.
Huck: Naming your son after Huck Finn is an undeniably southern move.
Hunter: Hunter, which means "one who hunts," has long been trendy in the South... probably for obvious reasons.
Jackson: Meaning "son of Jack," there are a wealth of popular Jacksons out there, from President Andrew Jackson to country singer Alan Jackson. It's also the capital city of Mississippi.
Jim: The perfect vintage boy's name, Jim is short for James and was once a popular nickname prominent in the South.
Judd: This strong name is short but firm and perfect for your tiny tot. This name means "flowing down."
Knox: Angelina Jolie and Brad Pitt gave Knox a boost when they gave the name to their son in 2008, but it also brings to mind the famed fortress Fort Knox in Kentucky or the city of Knoxville in Tennessee.
Lance: This English name means "land."
Landon: This popular southern name means "long hill."
Lyle: Most favored in the 1920s, this vintage name is ready for a comeback. It means "someone who lives on an island."
Martin: Famous civil rights leader Martin Luther King Jr. hailed from Georgia, making Martin a meaningful southern name to give your son.
Mercer: Mercer University is a college in Macon, Georgia, that doubles as an unexpected baby name. Mercer means "merchant."
Montgomery: Alabama's capital city has a rich history, making this moniker a lovely, classic boy's name.
Nash: While Nashville doesn't quite work as a name, Nash certainly does. Meaning "by the Ash tree," this short and sweet name has plenty of country attitude.
Oakley: Thanks to its folksy nature vibes, Oakley — which means "oak wood" or "clearing" — is perfect for outdoor lovers.
Otis: This vintage name is making a comeback, and it has a strong meaning to go with it: "wealthy."
Presley: Elvis Presley wasn't called the King for nothing. Honor the Mississippi native by naming your child Presley, an English name meaning "priest's meadow."
Raylan: Raylan is the name of the honorable (but conflicted) cowboy at the heart of Elmore Leonard's short story "Fire in the Hole," which was adapted into the Kentucky-set FX series Justified. The modern name means "wise."
Remy: This French name is especially perfect for baby boys from Louisiana. It means "oarsman."
Rhett: Gone With the Wind is problematic, but Rhett remains a popular southern name for its devil-may-care vibes. The name itself is English in origin, and it means "advice."
River: This evocative nature name brings to mind an easy-going child who takes time to enjoy life's small moments.
Sawyer: From Tom Sawyer to Josh Holloway's southern con man on Lost, Sawyer is a name befitting any child with a big spirit.
Scout: Even though Scout is a little girl in To Kill a Mockingbird, this name works beautifully for little boys, too.
Sutton: Why is Sutton a southern name, you ask? Because it literally means "from the southern homestead."
Tennessee: Naming your child after the vibrant state that's home to country music and scenic mountain views is a totally valid choice.
Travis: This French name means "tollgate-keeper" and has long been popular among southerners.
Truman: One of the South's most significant writers was Truman Capote, author of Breakfast at Tiffany's. The English name means "loyal one."
Tucker: A prevalent last name, this Southern-sounding moniker gives off casual country vibes.
Ulysses: The Coen Brothers gave George Clooney's lead character in O Brother, Where Art Thou? the name Ulysses, and it now feels both southern and epic.
Vernon: A rare vintage name that will make your baby stand out, Vernon means "place of alders."
Virgil: The name of Sidney Poitier's famous detective from In the Heat of the Night (and Sam Elliott's twangy character in Tombstone, to boot), Virgil means "staff bearer."
Wade: Meaning at the "river's crossing," Wade is another name steeped in nature and country style.
Walker: An occupational name, Walker is impossible to separate from the Texas ranger played on TV by Chuck Norris in the '90s and Jared Padalecki presently on The CW. It can also be an homage to Southern author Walker Percy.
Waylon: Another country singer name, Waylon could be in honor of Waylon Jennings or simply a nod to the South's many dirt roads since it means "land beside the road."
This article was originally published on