People Can't Get Over Prince George Looking Like A Little Man At The Euro Finals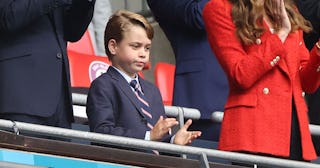 Christian Charisius/picture alliance/Getty
Prince George channeled the feelings of all of Britain during the highs and lows of the Euro Final, looking like the tiny future king he is
Yesterday, history was made at the final match of the 2020 European Championships (delayed a year due to COVID-19). The final came down to Italy, fighting for their first title since 1968, and England, battling for their first championship since 1965. To make an already tense match even more of a nail-biter, it went into extra time and then came down to a penalty kick shootout. And through it all, the future King of England, Prince George, was in the stands, channeling all of England's reaction to the highs and lows of the match, looking very much like a small business man and charming the whole world in the process.
George was at the full-capacity match at Wembley Stadium with both his parents, the Duke and Duchess of Cambridge. Dressed in a smart suit and tie, just like his dad, he stole the show for fans online, who gleefully shared photos of him taking in England's promising start, and ultimate loss.
For example, here's George's reaction to England scoring their first goal within two minutes of the start of the match.
If you can watch this video and not smile, you might just want to check yourself into the hospital because I don't think you're alive.
One of the best moments was when, after joyfully hugging his parents to celebrate the goal, little George made sure to tuck his shirt back in. What a sweet little future king he is.
But all good things must come to an end, as George learned when England lost the penalty kick shootout and the championship ultimately went to Italy. Photos of that moment show him being comforted by his dad, his little face carrying all the weight of the world.
Hopefully, George can find solace in the fact that the match made him a social media star not just in England, but all around the world. Football fans and non-fans were united by one thing: How dang cute George was while he was watching that match.
I mean, seriously. Does anything else matter when you're seeing an 8-year-old experience such absolute joy? Even the moments when George knew that England had lost, he was still the star of Wembley Stadium.
At the end of the day, it was a great match, with the highest of highs and the lowest of lows. Prince George experienced absolutely all of them, and we should all feel lucky that we got to witness it.
This article was originally published on