Prince Harry Opens Up About Why He 'Stepped Back' From The Royal Family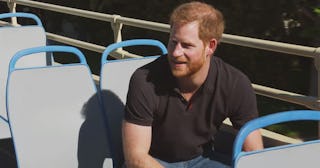 The Late Late Show with James Corden/Youtube
In a candid interview, Prince Harry explained how the "toxic" media "destroyed" his and Meghan Markle's mental health before they left the Royal Family
Prince Harry and Meghan Markle just had a big win against the British tabloid press that tormented them in the U.K. when Markle won a lawsuit against them earlier this month for violating her privacy. But the couple apparently isn't done speaking out just yet. Harry made a surprise appearance on The Late Late Show with James Corden, where he opened up more about the "toxic" media attention that was the driving force behind his decision to step back from his duties as a member of the Royal Family."
"It was never walking away from the Royal Family," he said. "It was stepping back rather than stepping down."
Harry continued, "It was a really difficult environment. We all know what the British press can be like, and it was destroying my mental health. I was like, 'This is toxic.' So I did what any husband and father would do — I was like, 'I need to get my family out of here.'"
So that's what they did. Harry and Meghan have since settled on an estate outside of Los Angeles, where they're raising their 2-year-old son Archie and just announced they're expecting their second baby.
"We never walked away," Harry clarified to Corden in his interview. "As far as I'm concerned, whatever decisions are made on that side, I will never walk away. I will always be contributing."
Just a few weeks ago, the couple's departure from their official royal duties was made permanent following a one-year trial period. In a statement, the Queen stripped Harry and Meghan of their royal patronages and Harry's honorary military titles, and said that the life they've chosen isn't compatible with continuing to serve in those capacities. But Harry and Meghan have been adamant that their decision will not keep them away from public service roles.
"My life is always going to be about public service," he told Corden. "And Meghan signed up to that. The two of us enjoy doing that — trying to bring some compassion and trying to make people happy, and trying to change the world in whatever small way we can."
Prince Harry and Meghan Markle both deserve to raise their family and live the happiest life they can, and if this is the path that will let them do that, we can't help but stan.
This article was originally published on