As Gourd Luck Would Have It, These Pumpkin Coloring Pages Are Free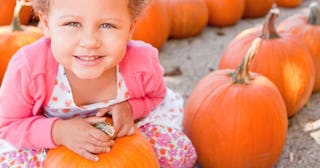 digitalskillet/Getty Images
Ahh, pumpkins. From pumpkin spice lattes to funny jack-o'-lanterns, a seasonal tablescape to Snoopy himself, nothing says fall or Halloween like the sight and scent of pumpkins. Pumpkins are the unofficial symbol of the fall season, lasting from early autumn days to Halloween and straight through until Thanksgiving. And the thing is, we don't get tired of seeing or smelling the activities and baked goods associated with this melon-shaped gourd! If anything, we probably crave more pumpkin-themed items. No doubt your child is pumped for pumpkins around this time of year, which is why these free pumpkin coloring pages are the perfect way to spend a chilly fall afternoon. These pair well with a visit to the local pumpkin patch or creating a family jack-o'-lantern.
After all, who hasn't loaded their Target shopping cart with pumpkin spice [fill in the blank] once September rolls around? Heck, grabbing a cashmere sweater and PSL is basically de rigueur as soon as the days get shorter, and who isn't here for that? And let's face it, pumpkins bring up a lot of feels around this time of year. Memories of fall festivals, carving contests, and spending time with little ones picking out their favorite pumpkin all come flooding back once the cooler weather kicks in.
Whatever comes to mind when you see these preciously plump fall symbols, our free pumpkin coloring pages are perfect for any age. Bonus: With each coloring page, we've included some tasty facts about pumpkins to share with your kids. And if you're craving even more food-themed fun after you finish, check out our pizza coloring pages, cake coloring pages, donut coloring pages, and ice cream coloring pages. You know what they say — go big or gourd home.
Free Printable Pumpkin Coloring Pages
Pumpkin Page No. 1
Pumpkins are usually orange but can sometimes be yellow, white, green, or red, making coloring these pages much more enjoyable and colorful!
Pumpkin Page No. 2
The name pumpkin comes from the Greek word "pepon," meaning "large melon." Pumpkins have thick shells which contain pulp and seeds. Because they contain seeds, they are considered fruit, but they are often referred to as vegetables when it comes to cooking. And if you're thinking about saving those seeds, you can grow your very own pumpkins. Just make sure to plant them during the first week of June, so they'll be ready in time for Halloween!
Pumpkin Page No. 3
The name of jack-o'-lanterns comes from an Irish folktale about a man nicknamed Stingy Jack that involved the devil and, well, didn't turn out that favorably for Jack. In Ireland, large turnips and potatoes were carved as jack-o'-lanterns with scary faces and placed near doors or windows to frighten away Stingy Jack and other wandering evil spirits. When Irish immigrants moved to the U.S., they began carving jack-o'-lanterns from pumpkins since those were native to the region.
Pumpkin Page No. 4
Over 1 billion pounds (450 million kgs) of pumpkin are produced in the U.S. every year. In 2018, Forbes valued the entire pumpkin-spice industry to be worth an estimated $608 million. That's a lot of lattes. And can you guess which state grows the most pumpkins? The answer is Illinois! They harvest more than 12,000 acres of pumpkins a year.
Pumpkin Page No. 5
After It's the Great Pumpkin, Charlie Brown first aired, children from all over the country mailed candy to "Charlie Brown" to make up for the rocks he received in the show. This goodwill went on many years after the special first aired.
Pumpkin Page No. 6
Pumpkin pie originated from the early American settlers in New England and is a must during the holiday season — traditionally eaten during harvest time and holidays such as Thanksgiving and Christmas. Having said that, we fully approve of eating pumpkin desserts anytime you can get your hands (or mouth!) on them.
Pumpkin Page No. 7
The oldest seeds of pumpkins were found in Mexico and are estimated to be from around 7,000 B.C.E. And can you guess how many types of pumpkins there are? The answer is more than 45!
Pumpkin Page No. 8
Toward the end of the 19th century, jack-o'-lanterns went from being a way to frighten off spirits to a prank before evolving into the standard seasonal decoration we know and love today. It was around this time that the modern celebration of Halloween came to be.
Pumpkin Page No. 9
Some tips from master jack-o'-lantern carvers include: rinsing the pumpkin a bath before carving it, leaving the stem attached, and if it looks a bit droopy, toss it in an ice water bath for an hour (hey, does that work for people too?).
Pumpkin Page No. 10
The heaviest jack o'lantern ever carved to date came from a pumpkin that weighed 2,350 pounds (1,065.9 kilograms) in Half Moon Bay, California, in 2020.
Click here to print all of the pumpkin coloring pages at once!
This article was originally published on