Get Ready To Fall In Love With The First Trailer For The 'Punky Brewster' Revival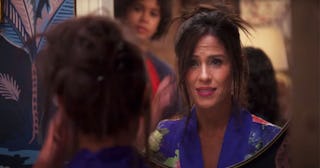 Peacock/Youtube
The new 'Punky Brewster' has the OG stars with a side of Freddie Prinze Jr. — YES PLEASE
The first full-length trailer for the new "Punky Brewster" revival is here, and it's absolutely freaking adorable. The Peacock series revival follows Soleil Moon-Frye as present-day Punky as she navigates life post-divorce as a mom of three kids and pals around with her best friend Cherie. Freddie Prinze Jr. stars as Punky's ex-husband, Travis, and honestly, this trailer is the nostalgia-laden escapism we all need right now.
The trailer begins with a flashback of our beloved Punky from the original series before showing full-grown, divorced, mother-of-three-but-still-rocking-that-signature-style Punky. "Raising three kids on my own, I'm barely keeping it together," Punky says. "It's time for me to focus on myself and my needs."
The trailer shows one of Punky's daughters introducing her mom to a dating app. Initially, Punky scoffs and says she's not ready to date just yet. "Your father and I just broke up," she admonishes, then sneaks a quick peek at the potential date. "A fireman? Holy macanoli!"
Though it would be remiss not to mention that Freddie Prinze Jr. is a sight for sore eyes in this series. This show is such a treat for Older Millennials because our little selves loved Punky when we were kids, and our coming-of-age selves loved us some FPJ when we got a bit older. It's perfect.
When the revival was initially announced to the public, Soleil Moon Frye posted an emotional video on Instagram celebrating the news.
"I am so grateful," she said, choking back tears. "I'm so humbled. And I'm so thankful. I know the responsibility that comes along with it, because I want to make it as amazing as possible. And I want to be able to help heal through laughter and joy and love and real stories. And my gratitude is abundant," she said, breaking into tears. "I can't wait to share this. Thank you."
The OG Punky Brewster ran for four seasons when it was originally on-air in the '80s. It received three Primetime Emmy nominations, two of them were for Outstanding Children's Program. What was so great about the show is that it wasn't afraid to tackle serious issues that other kids' shows weren't covering. It showed that not all families look the same, and that not every child has two parents or even biological parents. The show even brilliantly tackled heavy, emotional topics like The Challenger space shuttle tragedy, drugs, and pet loss.
Also, can we please just pour one out for Henry? Raise your hand if you're not prepared for how the revival will acknowledge Punky's sweet-but-stern foster dad.
The new show will follow Punky as she stays totally true to her "Punky Power" self while juggling motherhood, still having feelings for her ex, having the hots for men in uniform, maintaining BFF status with her beloved Cherie, and taking in a little girl who needs a home — sound familiar?
All 10 episodes of the series will be available for streaming on NBC's Peacock on Feb. 25.