90+ Rainy Day Date Ideas That Will Leave You Feeling Warm And Cozy Inside
by Team Scary Mommy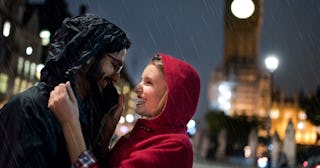 AzmanJaka/ Getty Images
When a surprise rainstorm interrupts the best-laid plans for your next date, what should you do? Cancel or get creative? Get creative and plan an indoor date, of course! A little bit of inclement weather doesn't need to dampen your romantic date. In other words, don't let the rain stop the party — or the date. Especially in the year 2021, we've all become experts on how to make indoors the place to be. Outside dates are cute, but doing something indoors accompanied by the sound of rain droplets can also be pretty romantic. So if you're stumped and believe your picnic in the park idea is ruined, don't fret. There are a million sweet hangout ideas you and bae can try.
To help inspire you, we rounded up the best date ideas for a rainy day that are sure to be fun and anything but "dry" in the boring sense of the word. Enjoy!
Plan a romantic dinner at home for your partner.
Go bowling.
Have a board game day at home.
Visit a new cafe.
Do nothing.
Cook a new type of cuisine together.
Visit an art gallery or museum.
Create an indoor picnic.
Bake cookies together.
Teach each other how to do something new, like cooking a certain meal or a new skill.
Go to the movies.
Visit an arcade.
Go indoor roller skating.
Watch a documentary and then discuss what you learned.
Attend a pub trivia event.
Go for a romantic stroll in the rain.
Go bar hopping.
Go swimming at an indoor pool.
Indulge in a couple's massage.
Attend a comedy show.
Take turns watching each other's favorite sitcom episodes.
Retile your bathroom — hey, Plaster of Paris is an aphrodisiac for some.
Have a Zoom picnic at home.
Visit a karaoke bar.
Go to a play.
Get pedicures together.
Check out a local craft brewery.
Play pool.
Head to the latest wine bar.
Have a video game tournament.
Binge-watch favorite TV series and/or movies.
Try indoor go-carting.
Go shopping together and rate each other's clothing.
Play some indoor mini-golf.
Snuggle up and read together.
Have a joke-telling contest.
Play some Minute to Win It Games; they're not just for kids!
Have your own cooking competition to see who makes the best dish.
Visit a local aquarium.
Volunteer at a local shelter or soup kitchen.
Go to a concert.
Ask these 36 questions and prepare to fall in love.
Take a bubble bath for two.
Get outside and play in the rain like kids.
Have a romantic day in bed, exploring each other's bodies and trying new sexy things.
Visit a tarot card reader.
Go to high tea.
Try indoor rock climbing.
Attend a cooking lesson together.
Go for a drive in the countryside.
Have a wine and paint night.
Create an indoor scavenger hunt.
Play truth or dare.
Try out some arts and crafts together like coloring, crocheting, or making scrapbooks.
Act like kids indoors: Have a pillow fight and build a fort.
Play laser tag.
Go ice skating indoors.
Take pictures in the rain.
Read poetry to each other indoors! Think of that scene in Sex and the City when Aleksandr Petrovsky reads poetry to Carrie Bradshaw.
Throw a wine and cheese party for two.
Teach each other something interesting from each other's profession.
Give each other pedicures.
Set up a picnic by the window so you can chat, drink wine, and look at the rain.
Get yourself an adult coloring book, some colored pencils, and dive right in.
Take a nap.
Grab a building set from the LEGO store and build the Empire State Building or the Taj Mahal together. After you're done, you'll be happy you did it!
Take turns asking each other dirty riddles.
Talk about your favorite memories with each other.
Talk about the memories you want to create with each other.
Find a puzzle and tackle it together.
Go to a local drive-in movie theater… or create your own version in your living room.
Throw caution to the wind and dance in the rain.
Try a new fitness class together.
Tour a local factory. Tip: Try one that makes food or beverages, and you'll get to indulge in a free treat or two.
Give each other manicures.
Make a bunch of different cocktails and get tipsy together.
Create an indoor spa that comes with pedicures and manicures. You can even hire a masseuse for the evening. Then as the evening comes to a close, light some candles, break out a bottle of wine and fruits, and take a warm, Epson salt-filled bath together.
Watch a movie with a romantic rain scene! Here are a few of our favorites:
– The Notebook – Pirates of the Caribbean: At World's End – Dear John – Spider-Man – Breakfast at Tiffany's – Match Point – Four Weddings and a Funeral – Chasing Amy – Step Up 2 – Little Women – Garden State – Sweet Home Alabama – Australia – Daredevil – A Cinderella Story
Reenact the scene from Ghost and create a sculpture together. Or you can make a competition out of it. The prettiest and most bowl-like creation wins.
Go get some sushi or make homemade sushi rolls. So fun!
Do a Zumba class together and, when you're done sweating, take a shower (together if you're both down).
Card games were invented for rainy days. Break out some go fish, or poker if you're the gambling type.
Play a drinking game together and see what your partner is really made of — from the comfort and safety of your home.
Take a walk down memory lane! Grab your phones and pull up pictures from the first time you met, when you went on your first date, and from any other major moments in your relationship.
Watch TED Talks together. Yes, it sounds super-nerdy. Who cares? Not us. TED Talks are fascinating and can inspire you in endless ways. Plus, it'll give you something to talk about other than the weather (and whatever drama is currently unfolding on Facebook).
Jot down a couples' bucket list filled with all of the places you want to go and things you want to do together.
Play on Pinterest. Make it a game where each of you opens the app up and creates a board for, let's say, living room decor ideas. Then you fill the board with things you think your partner would love, and vice versa. See how well you really know each other's tastes and if your tastes mesh well.
Plant something! You know all of those artful terrariums filling up your Instagram feed? Create one together. Or if you love to cook together, try an indoor herb garden.
Escape. No, not from each other. Rather, get in on the escape room trend. Even if you don't feel like driving in the rain to get to a local escape room establishment, you can find online escape rooms to join. Just remember: Teamwork makes the dream work.
Hear us out: Marie Kondo your home. See what sparks joy and what doesn't and declutter the crap out of your house.
Turn off the TV, put on comforting and relaxing music, and watch the rain fall out your window. It'll feel like self-care. Trust us!
Print out some cactus coloring pages and pretend like you're in the (dry!) desert.
Have karaoke at home! There are tons of videos you can find that play instrumental versions of songs that'll make you and your boo feel like you're in an actual karaoke room!
Create a relay race inside the house. Incorporate forts, blindfolds, and balls for a wild time. You'll feel like kids inside on a rainy day, which is the point.
This article was originally published on