Gorgeous And Fun Rangoli Designs For Kids To Celebrate Diwali And Beyond
by Becky Bracken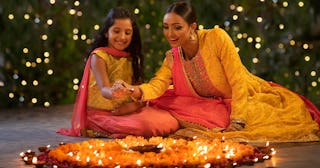 IndiaPix/IndiaPicture/Getty
When it comes to getting kids in the spirit of holidays and family events, parents are often met with grumbly and bored faces. This is where some fun holiday crafts and activities come in clutch. Enter: Rangoli. A traditional Indian craft, rangoli is a great way to get kids to express themselves and work on their fine motor skills. And while exquisite and stunning, rangoli designs can be incredibly complicated. Anyone interested in getting kids excited about rangoli just needs a few go-to rangoli designs for kids and some craft supplies, like glue, copy paper, colored sand, and beads. But before you start, better charge up the cordless vacuum. Trust us on this one.
Marrying the practical, spiritual, and beautiful, Indians have been creating rangoli designs to commemorate holidays, festivals, and happy occasions for centuries. Using colored sand and rice flour, the intricate designs often honor Hindu gods and the practice has been elevated into an honored tradition handed down through generations.
Whether you're gearing up to celebrate Diwali, are teaching your littles about art and traditions from around the world, or just want to spark your child's imagination and artistic spirit, we went ahead and rounded up tips, tricks, and ideas for the best rangoli designs to attempt with kids.
What is rangoli?
Derived from the Sanskrit word meaning "color," rangoli is an old tradition meant to celebrate Hindu festivals and happy occasions. Using their bare hands, Indians create rangoli designs in the entrance of their homes, courtyards, or even event spaces, carefully dropping small fistfuls of sand, flour paste, and other brightly colored powders mixed with other media like flowers, rocks, or religious artifacts to make art meant to be disrupted, cleaned, and another put in its place.
True masters of rangoli can use just their fingers to make ornate images of celebrities, heroes, seascapes, and more, all while spending hours crouched painstakingly to create these works of art.
How are rangoli and Diwali connected?
More sophisticated rangoli designs are popular during Diwali, a "festival of lights" celebration marked by riotous colors. According to Swastik Rangoli Kalkar Group, an international artists group, those who traditionally practice rangoli believe the gods, and their good fortune, will be attracted by clean, beautiful spaces. So each morning they sweep and clean the entrance and set about creating an entirely new rangoli design as a sign the place is well kept and lovely.
Rangoli designs vary by region, family, and even social status, but are always a sign of welcome and hospitality to mere mortals as well as deities. Besides their deep meaning and history, rangoli has become a popular expression for all sorts of artists, particularly well-suited for kids working on strengthening their fine motor skills for handwriting. Rangoli crafts are also a great way to teach kids around the world about rich Indian traditions, including Diwali.
What are some simple rangoli design tips?
For younger kids, try printing out designs on copy paper, then letting them color, then glue sand over the top for a guided, inside-the-lines approach. There are tons of rangoli design templates online you can print. For older kids, their imagination is the only limit. Rice tinted with food coloring, flower petals, beads and other doo-dads around the house are also a simple way to add interest and depth to a kid's rangoli design. For the littlest of artists, just sprinkle some sand or powder on the table and let them make designs with their fingers until they get the hang of dropping the sand.
Most rangoli designs are some variation on a geometric shape, but today's most popular characters from cartoons and pop culture seem to find their way into many kids' rangoli designs inspired by what they see around them. Rangoli is meant to be a part of all sorts of celebrations, so consider incorporating rangoli designs into birthday parties, holidays, and to mark other milestones. It might just become part of your most cherished family traditions.
So whether you're looking for a new artistic outlet, a fun spin on holiday decorating, or just a way to strengthen baby's chubby little hands, here's a list of simple rangoli designs for kids that just might get them hooked on the sand art craft for life.
What are a few rangoli designs for kids?
Basic flower shapes (don't forget to add real flower petals)
Colorful feathers and peacocks are popular traditional rangoli designs
Balloons for a birthday-themed rangoli
Snakes and dinosaurs rangoli
Hearts for Valentines Day rangoli
Santa Claus for Christmas rangoli
Nature-inspired rangoli designs
Basic landscape rangoli design
Favorite cartoon character rangoli design
Rainbow rangoli for pride celebrations
Triangle, circles, squares for a geometric rangoli design
Favorite TikToker rangoli (for the tweens)
What are the materials used to make rangoli?
Rangoli is a very unique art form, and there are several materials you can mix and match to make some of the beautiful designs listed above. Materials that'll help make your rangoli art pop include sand, flower petals, lentils, rice flour, beans, turmeric powder, chickpea flour, powdered limestone, quartz powder, and red ochre.
Is rangoli art permanent?
You don't have to worry about your rangoli art sticking to surfaces. Although it is an adhesive, the substance won't hold together forever. If you want to clean it up, pour some water on the decorated surface. But, if you find the rangoli has made a stain or is especially difficult to clean up, add lemon water to your cleaning solution or scrub it with coconut oil.
What else should I know about rangoli?
Rangoli is more than a creative work of art. Apart from its beauty, here are a few things you should also know about rangoli:
Rangolis are made during special occasions like Pongal, Onam, Tihar, Diwali, and when someone is getting married.
Rangoli has several names. In West Bengal, it is called alpana; in Chhattisgarh, it's chowkpurana; and in Tamil Nadu, it's called kolam.
Sometimes people make colorful rangolis to invite happiness and good fortune into their households.
This article was originally published on