When In Rome... Consider These 95+ Classic Roman Names
by Team Scary Mommy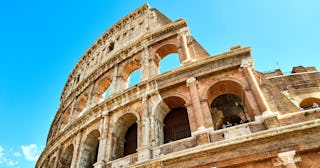 Matthew Schwartz/Unsplash
Friends, Romans, Scary Mommy Readers: Lend us your ears. (Or your eyes, if you're reading this.) If you've got a new baby on the way, but are stumped when it comes to names, allow us to humbly suggest a baby name from the city behind one of the greatest empires in human civilization: Rome.
We know what you're thinking, and no, Roman names aren't simply Italian names — many are in Latin, making them sound strong and timeless. Plus, Roman names call to mind the mighty Roman Empire, which lasted from 27 B.C.E. — AD 476 and extended across most of Europe, northern Africa, and western Asia.
If you've ever been to Rome (or at least seen pictures), then you already know that Romans were quite the architects and engineers, coming up with structural innovations like aqueducts, arches, concrete, and paved roads. In addition, ancient Romans also gave the world welfare, newspapers, bound books, the Julian calendar, and battlefield surgery.
In case you're unsure about plucking a semi-obscure name from Roman times, know that plenty of modern people are looking to the ancient world for baby name inspiration, including Greek god and goddess names, old Wiccan names, wild wolf names from global folklore, Viking names, Mayan names, and Aztec names.
But why take your cues from other people — be a trendsetter! And do you know who the original trendsetters were? That's right: the Romans. So take your time, and enjoy perusing these Roman names for girls and boys, and others that are gender neutral, along with their origins and meanings.
Roman Names for Girls
Alba
Origin: Latin Meaning: Bright
Antonia
Origin: Latin Meaning: Priceless one
Aurelia
Origin: Latin Meaning: The golden one
Bellona
Origin: Latin Meaning: Goddess of war
Cardea
Origin: Latin Meaning: Roman goddess of change
Cassia
Origin: Greek Meaning: Cinnamon
Cecelia
Origin: Latin Meaning: Blind
Decima
Origin: Latin Meaning: Tenth
Faustina
Origin: Latin Meaning: Lucky
Gaia
Origin: Greek Meaning: Earth mother
Julia
Origin: Latin Meaning: Youthful
Junia
Origin: Latin Meaning: Born in June
Liviana
Origin: Latin Meaning: To envy
Marilla
Origin: Latin Meaning: Shining sea
Mila
Origin: Slavic Meaning: Gracious
Minerva
Origin: Latin Meaning: Goddess of wisdom
Octavia
Origin: Latin Meaning: Eighth
Varinia
Origin: Latin Meaning: Obscure
Vesta
Origin: Latin Meaning: Goddess of love
Vita
Origin: Latin Meaning: Life
Roman Names for Boys
Atticus
Origin: Latin Meaning: From Attica
Augustus
Origin: Latin Meaning: Great
Aurelius
Origin: Latin Meaning: The golden one
Avitus
Origin: Latin Meaning: Ancestral
Conan
Origin: Latin Meaning: Little wolf
Felix
Origin: Latino Meaning: Happy
Cassius
Origin: Latin Meaning: Hollow
Cornelius
Origin: Latin Meaning: Horn
Jovian
Origin: Latin Meaning: Sky father
Julius
Origin: Latin Meaning: Youthful
Logan
Origin: Latin Meaning: Little hollow
Magnus
Origin: Latin Meaning: Greatest
Marcus
Origin: Latin Meaning: Warlike
Maximus
Origin: Latin Meaning: Greatest
Regulus
Origin: Latin Meaning: Prince
Romulus
Origin: Latin Meaning: Citizen of Rome
Ronan
Origin: Latin Meaning: Little seal
Rufus
Origin: Latin Meaning: Red-headed
Septimus
Origin: Latin Meaning: Seventh son
Silas
Origin: Latin Meaning: Forest
Urban
Origin: Latin Meaning: Of the city
Gender-Neutral Roman Names
Achaea
Origin: Latin Meaning: A Roman province
Amor
Origin: Latin Meaning: Love
Carus
Origin: Latin Meaning: Beloved
Cato
Origin: Latin Meaning: All-knowing
Cicero
Origin: Latin Meaning: Chickpea
Cyprian
Origin: Greek Meaning: Person from Cyprus
Festus
Origin: Latin Meaning: Holiday
Galeo
Origin: Latin Meaning: Helmut
Lucius
Origin: Latin Meaning: Light
Nero
Origin: Latin Meaning: Stern
Pax
Origin: Latin Meaning: Peace
Quintus
Origin: Latin Meaning: Fifth
Ralla
Origin: Latin Meaning: Tunic made of fine fabric
Rayan
Origin: Latin Meaning: Watered
Roan
Origin: Latin Meaning: Raven
Robin
Origin: Latin Meaning: Bright fame
Seneca
Origin: Latin Meaning: People of the standing rock
Tanaquil
Origin: Latin Meaning: Gift of God
Valerian
Origin: Latin Meaning: Be strong
Zeno
Origin: Latin Meaning: Sky
More Roman Names
Saanvi
Origin: Sanskrit Meaning: "One who will be followed"
Shanaya
Origin: Hebrew Meaning: Eminent, distinguished, born on a Saturday
Shreenika
Origin: Hebrew Meaning: Night
Samaira
Origin: Hebrew Meaning: Enchanting, protected by God, guardian
Sara
Origin: Arabic Meaning: Unique, a woman who is pure and holy
Saisha
Origin: Sanskrit Meaning: Truth of life
Siya
Origin: Arabic Meaning: White moonlight, a handsome woman, candied sugar
Saanvika
Origin: Sanskrit Meaning: Goddess Lakshmi, one who will be followed
More Roman Names for Boys
Aelius
Origin: Greek Meaning: Sun
Aetius
Origin: Greek Meaning: Eagle
Albus
Origin: Latin Meaning: Bright
Appius
Origin: Latin Meaning: Unknown
Blandus
Origin: Italian/Spanish Meaning: Charming
Brutus
Origin: Latin Meaning: Heavy
Caelius
Origin: Latin Meaning: Heaven
Celsus
Origin: Latin Meaning: Tall
Crispus
Origin: Latin Meaning: Curly-haired
Decimus
Origin: Latin Meaning: Tenth
Drusus
Origin: Celtic Meaning: Strong
Fabius
Origin: Latin Meaning: Bean
Faustus
Origin: Latin Meaning: Lucky
Germanus
Origin: Latin Meaning: Brother
Manius
Origin: Latin Meaning: Good
Nonus
Origin: Latin Meaning: Ninth
Octavius
Origin: Latin Meaning: Eighth
Pontius
Origin: Latin Meaning: Fifth
Vitus
Origin: Latin Meaning: Life
More Roman Names for Girls
Aelia
Origin: Greek Meaning: Sun
Albina
Origin: Latin Meaning: Derives from the Saint Albinus
Aquila
Origin: Latin Meaning: Eagle
Augusta
Origin: Latin Meaning: Great
Balbina
Origin: Polish Meaning: Feminine form of Balbinus, "little stutterer"
Camilla
Origin: Latin Meaning: Beauty
Claudia
Origin: Latin Meaning: Lame
Fabia
Origin: Italian Meaning: Bean farmer, grower
Flavia
Origin: Latin Meaning: Golden-haired, yellow hair
Hadriana
Origin: Latin Meaning: Lucky, successful
Herminia
Origin: Latin Meaning: Messenger, earthly
This article was originally published on