Ryan Reynolds Makes Hilarious NSFW Joke About His 'Sesame Street' Costume
by Julie Scagell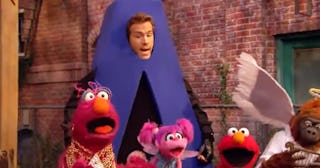 Sesame Street
To his credit, it *was* an A hole
Only Ryan Reynolds could turn his appearance on Sesame Street into a NSFW moment that somehow makes him even more endearing than he was five minutes ago. This is not an easy task, BTW.
On Sunday, the Deadpool actor responded to a parent who said they were watching Reynolds in an old episode of the iconic children's show. "Watching a little @sesamestreet with the kiddo, and its an episode with @VancityReynolds and the gang doing an A-Team gag. Its a delight, for both me and the kiddo," they wrote next to a picture of Reynolds in his "A" get-up next to a caption that says, "I love it when a plan comes together."
But it was Reynolds' deadpan response to the costume that had everyone on social media rolling. "I remember how challenging it was to sing because the A-hole was so tight," he replied on Twitter. "But I pushed through because kids all over the country were counting on me." Yes, he nailed it.
The responses to Reynolds' joke were quick and hilarious in their own right as it dawned on them what Reynolds had, in fact, just said:
Reynolds' friend, Zach Braff tweeted back quickly, writing, "You had me at A-hole was so tight."
CNN's Jake Tapper simply responded with, "Ryan."
Reynolds is known for his quick wit and dry sense of humor. He is the king of the dad joke, regularly sending out hilarious jokes about parenting, fatherhood, and stinky poop diapers. He also regularly trolls his wife, actress Blake Lively, with whom he shares three daughters — Inez, James, and Betty. With jokes like, "Being a Dad isn't just about eating a huge bag of gummy-bears as your wife gives birth. It means being comfortable with the word hero," you just can't not love him.
He's also the creator of Aviation Gin and uses those ads to slip in jokes on the regular. "Hair by @serafinosays and styling by @joseph.episcopo. Bags under my eyes by two thankless assholes who refused to go to bed the night before, despite the fact I read them Winnie the Pooh and nearly half of Stephen King's The Shining," he wrote in one Instagram ad.
Reynolds is truly a triple threat. He's funny, successful, and very easy on the eyes. Plus, there's not many people who could take a small stint on Sesame Street in 2010 and make it into a hilarious moment for kids of all ages a decade later. In his defense, the A-hole did look uncomfortably tight and that's no fun for anyone.
Please keep the dad jokes coming. We are very much here for it.