Ryan Reynolds Shares Recipe For A 'Vasectomy' Cocktail In Hilarious Ad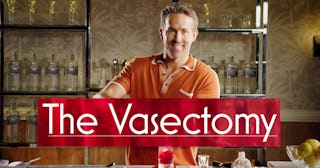 Ryan Reynolds/Youtube
In honor of Father's Day, Ryan Reynolds shares his "Vasectomy" cocktail recipe
In yet another moment where he has absolutely no business being this funny, Ryan Reynolds is giving dads what they really want for Father's Day — a "Vasectomy." LOL, no, he's not a surgeon ready to clip the baby makers. His version is actually a drink made with his Aviation Gin. He shared the recipe along with some classic Reynolds sarcasm (mildly unhinged, hilarious, perfect) in an ad for the liquor that honestly doesn't feel like one. How is he so good at this? For what?
RELATED: How Much Does A Vasectomy Cost, And How Does It Compare To Getting Your Tubes Tied?
Reynolds explains that the "Vasectomy" is "the mother of all cocktails" and proceeds to share the dadly deets.
"First, fill a tall glass with ice, the way children fill our lives with so much joy" he says with his trademark dry wit on full display as ice clumsily tumbles over the bar. Next is cranberry juice — "sweet, just like their little smiles."
Then comes tonic, "so bubbly" like how he feels "every day waking up after a long, full night of sleep." Welp. We're gonna go with sarcasm there for sure.
Then add lemon juice. "Fresh if you have a few minutes to squeeze one or store-bought if the little ones have you running around a bit today, the little scamps," he quips.
Finally comes 1.5 ounces of Aviation gin, but his first pour is, um, a bit heavy. In a new take, Reynolds pours in the proper amount.
Last is the garnish and there you have it — "a little something I call the Vasectomy for no fucking reason at all."
After the picture fades to black, Reynolds can be heard saying, "When people see this they're gonna be like, 'has he ever been outside?'"
Honestly, this man is a gift. What other celeb can hawk their own products and somehow not even make it feel like an ad? As far as his Dad credentials, they're very real — Reynolds is father to three daughters with wife Blake Lively and his commentary about raising his kids is exactly as hilarious as you'd expect. When talking about the experience of homeschooling their kids during COVID, Reynolds starts off sincere and ends with a dash of Deadpool.
"We're lucky enough to have a little tiny garden," he said. "So, we're learning a little bit about gardening. We're trying to make this an educational experience, but I'm mostly drinking."
And of course, he famously trolls Lively at every given opportunity. Not even Mother's Day is sacred.
We salute you, Ryan. If anyone deserves a double pour of gin in his cocktails this Father's Day it's him.
This article was originally published on