'Saved By The Bell' Will Pay Tribute To Screech — At The Max, Of Course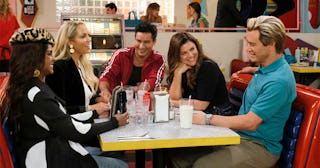 Trae Patton/Peacock
Saved by the Bell executive producer Franco Bario confirms the OG cast will pay tribute to Screech right off the bat in the first episode of season two
Even though the first season of Saved by the Bell reboot was surprisingly smart, funny, and charming, fans couldn't help but notice that some of the most beloved original characters, including Samuel "Screech" Powers (played flawlessly, of course, by the late Dustin Diamond), had a lack of presence throughout season one, which premiered on Peacock in late 2020.
After Diamond's untimely death at the age of 44, fans wondered if the second season of the reimagined series would pay tribute to the goofy, lovable Screech, and executive producer Franco Bario (who was also at the helm of the original teen sitcom) has confirmed that not only will there be an emotional tribute to Screech, but all five of the OG cast members will have bigger roles in season two.
Bario told Variety that he'd been in talks with Diamond prior to his death to discuss how to include him in the second season, with reboot showrunner Tracey Wigfield wanting to pay homage to his character that was "more than just putting a picture of him up at the end" of an episode.
After speaking with Elizabeth Berkley Lauren and Mario Lopez (aka Jessie Spano and AC Slater, who both play teachers at Bayside High in the new series), as well as guest stars Mark-Paul Gosselaar (Zack Morris), Tiffani Thiessen (Kelly Kapowski), and Lark Voorhies (Lisa Turtle), the group decided that it only made sense for Bayside's most famous alumni to reunite at the fictional hangout spot they made famous: The Max.
Wigfield told Variety that both the ongoing COVID-19 pandemic and Diamond's death factored into the planned tribute. "Everyone understands how heavy this last year has been," she shared. "It would have been wrong to not acknowledge that in a real way and to not have our OG characters mourning this character that we'll never get to see again."
"I just wanted to make sure we were being as sensitive as possible," she added. "There was a real guy who had people who loved him. You don't want to make any jokes or talk about it in any way that might hurt anyone's feelings."
In a tribute that's sure to make millennials the world over well up with tears, the first episode of season two will also include sweet and emotional Screech flashback clips. "A lot of what Screech was is known for was being the butt of a joke or being an outrageous character," Bario said, "and what we were hoping for was using the clips to show how important he was to the show, but also to the other characters in the show."
The pair also confirmed that Zack, Kelly, and Lisa will have bigger roles this season, sharing that fans will "get a bigger sense of who they are as characters now as adults." Thankfully, fans won't have to wait long, as season two will be available to stream on Peacock on Wednesday, November 24.