Why I'm Going To Say 'Yes' To My Teens This Summer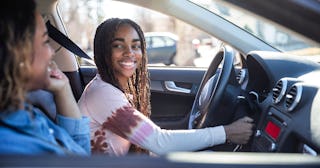 MoMo Productions/Getty
I realize my teens love me very much, but they've already made it very clear they don't want to spend the 4th of July with me. Instead, they are going to hang with their friends. While I wish they wanted to spend the day with me at the beach or grilling on our back deck, I am completely fine with their decision — when I was in high school, hanging out with my parents was almost torture.
My daughter has already lined up a bunch of plans for her summer vacation. She wants to get her nails done, she wants to have a fancy 16th birthday party (we already bought the dress), and she wants to go visit a local farm and spend the day with animals.
I've already told her we will do all those things and more.
My youngest is transplanting trees all over my damn house. His room looks like a forest. He has little tree seedlings sprouting all over every surface from acorns he took from our backyard. We've already made three trips to the store to get seeds and I'm also pretty sure there's a colony of ants in one of his drawers. As far as I'm concerned, if I don't see it, it's not there.
My oldest has been spending every evening with his girlfriend. He also consumes more red meat and pork than I feel anyone should, but every time he tells me he wants anything from the grocery store, I go get it and we grill it together. I wouldn't trade those moments for anything.
Yes, our teens are resilient in this Covid pandemic that has made them stronger. It has also made a lot of them realize the importance of family, friends, their health, and the joy that comes from being able to walk out your door and just do normal everyday stuff. Stuff that we always took for granted.
However, this summer is going to be different — and I'm very intentional about that. Last summer, I was constantly saying no. "No, we can't go to the movies." 'No, you can't hang out with your friends." "No, we can't go to a water park." " No, we can't have a birthday party." "No, we can't go to our favorite ice cream place because they aren't open."
Parents were saying "no" out of sheer fear, and because it was the right thing to do.
While my teens aren't incredibly eager for me to play tour guide or spend every day this summer with me, they do have requests of their own that maybe seem small and uninteresting to some people.
They want to hang out with their friends more. My daughter is glad she can have a few people at her birthday party this year. My son is just happy to be working again.
I'm sure there'll be days where they want more than one ice cream cone at our local dairy bar. They'll ask if they can make s'mores at 11 p.m. and sleep outside on the deck. They'll want our pet ducks to come into the house. They will ask if we can go thrifting and to the dollar store a few times a week, I'm sure, because that is their jam and one of the things they missed the most.
And I will always say yes.
Because for me and my family, this will be the summer of saying yes. It will be the summer of doing things that make us feel happy and like we are living more normally.
Only it will be better, because we didn't have this gift last summer.
Just because your kids are older and maybe have forgotten the joy of going to the movies or just going for a ride to get a Slurpee doesn't mean it's not going to come back to them after the year and a half that we've just had.
I am so lucky they are here. I am so lucky they are healthy. I am so lucky that this year, I am able to say yes to their requests.
But I also feel lucky that this past year has put some things into perspective for us and if my kids want to stay up late watching movies and make pancakes at midnight, I am here for it.
They are living in the moment, and I can see they are thankful to hear me say yes more. To me, you can't put a price on that.
Here's to the Summer of "Yes"!