'Schitt's Creek' Broke All The Records By Winning Every Comedy Emmy
by Christina Marfice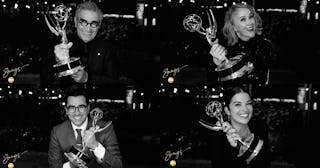 ABC/Frank Ockenfels
Schitt's Creek proved it's simply the best by winning literally every Emmy in the comedy category
If there is a single bright spot in 2020, it's that Schitt's Creek is finally getting all the recognition it's deserved since its first season aired in 2015. This wonderful, wholesome series has seen us through some incredibly dark times, and never failed to show us that love and acceptance can always make a situation — however bad it seems — possible to overcome.
At last night's Emmy Awards, Schitt's Creek swept the entire comedy category, taking home nine total awards and breaking every previous record for most-decorated comedy series in a single year. We can't think of any show more deserving of that, especially this year, when we need the messages from this little Canadian comedy more than ever before.
The cast of Schitt's Creek gathered at a restaurant in Toronto for a private watch party of the socially-distanced Emmys, and half the joy was seeing them all together again. But it pretty quickly paled in comparison to seeing them loving and supporting each other as they, one-by-one, stood up to accept their awards.
First were the awards for writing and directing for a comedy series, which both went to Schitt's Creek. Then Dan Levy and Annie Murphy accepted awards for best supporting actor and actress. Eugene Levy was named Best Actor, then Catherine O'Hara Best Actress. And finally, Schitt's Creek was awarded the highest honor in its category: Outstanding Comedy Series.
What made watching all those wins roll in so much better was seeing how excited Dan Levy was for each winner. He's the show's co-creator (and it's writer, director, producer, and star), and his support for all of his co-stars might just be the best thing that happened at the entire Emmys ceremony this year.
And then, of course, there were the speeches. Honestly, they're too good to reduce to clips and quotes, so if you're a fan of Schitt's Creek, you should watch them all in their entirety. But Dan pretty well summed things up as he accepted the award for Outstanding Comedy Series: "Our show at its core is about the transformational effects of love and acceptance and that is something that we need more of now than we've ever needed before."
In the press room after the ceremony, the cast seemed a little bit in disbelief.
"What an absolutely wonderful way to end our series," Dan said. "I don't think you could ask for a better conclusion to a story than [this] tonight. So we are thrilled."
We couldn't possibly agree more, and if anyone needs us today, we'll be rewatching our favorite episodes of Schitt's Creek through happy tears.
This article was originally published on