These 10 School And Teacher Coloring Pages Really Make The Grade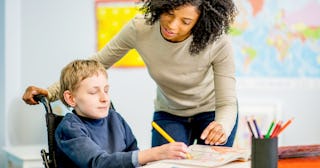 FatCamera/Getty Images
While summer is a great season, many of us can't wait until September — especially this September. For parents, it's the chance for their kids to go back to school to socialize with their friends and continue their education. And now that the countdown to the next school year is on, there's no better time to break out some school coloring pages to hype kids up for the return to learning. Sure, school coloring pages might not be as much fun as a summer vacation (beach trip, anyone?), but they're an excellent way to help kids transition back to school through an enjoyable DIY activity.
And we can't very well have school coloring pages without featuring some of our favorite superheroes: educators! Our collection of free school-themed printables includes teacher coloring pages, too. Maybe they'll inspire your kiddo to color the pages in the likeness of their favorite educators. Or, hey, here's a nice idea: Teachers love thoughtful little gifts from their students. These pages may be the perfect "back to school" gift for your kiddo's favorite teacher to hang by their desk.
So, print out these fantastic free printables for the budding artist in your family. And if you want to keep the educational creativity going, follow up our school coloring pages with alphabet coloring pages, number coloring pages, shapes coloring pages, and music coloring pages.
Free Printable School (and Teacher!) Coloring Pages
School Page No. 1
There are plenty of ways to make this coloring page shine. Try metallic colors for the balloon or even the butterfly in the sky. Encourage your kids to fill in the entire sheet, from the blue sky to the green grass. Or, if you're feeling adventurous, you could turn this page into a scene from The Magic School Bus. We recommend using a red crayon on the teacher's hair to transform her into Ms. Frizzle.
School Page No. 2
Have a special math teacher in your life? May 7th is National Teacher's Appreciation Day, so mark your calendars and don't forget to make your teacher feel extra special. Did you know teachers work about 10 hours per day? That means they put in about 1,927 hours per school year. We recommend sharing this fact and teacher coloring page with any educator who happens to love right angles and quadrilaterals. Math might not be your favorite subject in the world, but being able to color in a math concept may very well change your mind.
School Page No. 3
School coloring pages can often make us reflect on our own educational experiences back in the day. This one, in particular, is very relatable. It's always nice to have one-on-one learning time with a teacher. With these big smiles, you can tell they're both having a rewarding experience back in the classroom. It'll also be a lot of fun to color in the classroom decor in the back.
School Page No. 4
Here's another math coloring page, but the person might not necessarily be a teacher. It could also be a parent helping their child with their homework. This page needs a background to add extra context, so feel free to let your little artist's mind go wild. Here's another interesting tidbit of information: Did you know cells actually change when you learn new things? It reinforces your myelin sheath!
School Page No. 5
Out of all the teacher coloring pages, this one may also look best as a watercolor. If you're a seasoned artist, you might feel inspired to take this design and transfer it onto a larger canvas. But it'd also look great with pastel colors if you have colored pencils available. What do you think is on this blackboard? Part of the fun of this page can be creating a "lesson" to go with it.
School Page No. 6
We love this coloring page because kids can personalize the chalkboard in the back. Maybe these little students are learning about math or science — that's up to your kiddo. Parents can also use this coloring page as a great way to talk to their kids about the upcoming school year. You can ask them which subject they're excited to learn about the most and tailor the image to that.
School Page No. 7
This coloring page may be a bit basic, but it's a perfect springboard to discuss kindergarten readiness skills with your preschooler. First up? Learning those ABCs!
School Page No. 8
Let this math-related page help you quiz your child on early math problems. They might know 2 + 2, but what about 4 + 4? Maybe that can be a math problem you hand-write at the bottom. Math + Art = Fun.
School Page No. 9
Did you homeschool your children last year? Then, you might be able to relate to this school and teacher coloring page. That said, about three percent of kids are homeschooled even when standard schools are open, so this coloring page reflects that education can happen anywhere.
School Page No. 10
Think addition was challenging? Try multiplication! This coloring page is great for kids who are just a little bit older.
Click here to print all of the school and teacher coloring pages at once!
This article was originally published on