Scrapbooking Time! Try These 10 Easy Layout And Page Ideas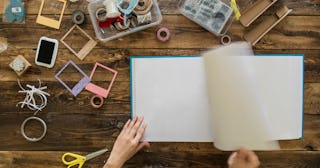 Westend61/Getty Images
The internet is great, right? The possibilities that come with the world wide web are practically endless. Thanks to technology, we can do almost anything online — see friends and family members, pay bills and budget, manage our calendar, make a living, seek higher education, you name it. Heck, many of us have kids who are home and doing school online right now. Another thing you can do on the internet is preserve memories. Our favorite way to do that? Scrapbooking. Yep, digital scrapbooking is totally a thing now. And it's cool! It's a trend that's really taken off in recent years. But, what if you just like paper? What if paper crafting is your jam and you aren't ready to move that hobby online? Is scrapbooking dead? If so, can it be revived? You, my friend, are clearly in need of some scrapbooking ideas.
First, let us reassure you that traditional scrapbooking isn't dead. Far from it, in fact. Though technology is bomb.dot.com, paper crafting is making a comeback. A big one. Screen fatigue is real, and people are feeling it! It's nice to be able to set down our phones, close our laptops, and just take a break from it all, isn't it? Scrapbooking offers an escape while also helping us record special moments we don't want to forget. So, if you're interested in scrapbooking (with actual paper), let us help you get started.
Scrapbooking Ideas: Materials
Here are a few key materials you'll want on hand before you get the scrapbook ball rollin'. Keep in mind, this isn't an all-inclusive list. But with these basics, you should be good to go:
Album (Choose your size and style)
Album refill pages
Page protectors
Colored paper (Solid and patterned)
Adhesives (Liquid, double-sided tape, glue sticks)
Scissors
Washi tape
Stickers
Stamps
Easy Scrapbook Layouts
Once you have your supplies assembled, it's time to start thinking about how you want your page to look. If you're drawing a blank when it comes to page layouts, here are a few ideas to kick-start your imagination.
1. Nostalgic Layers
The pretty pastels and feminine florals on this page make you feel like you've traveled back in time! An important takeaway from this page is that your scrapbook layouts don't have to be so one-dimensional. A layered look, like they've accomplished here with the wreath, is easy to do and makes a big visual impact.
2. Textural Details
A little girl's radiant smile, sheet music, and chicken wire — it seems like a weird combo, but it totally works! This layout proves that unexpected elements (like the chicken wire) do an excellent job of calling attention to a part of the page you want to highlight.
3. Vertical Meets Horizontal
These beautiful travel photos make ya want to hop on a plane and head to wherever they were taken, don't they? Part of what makes them stand out so much is their arrangement on the page. By using two vertical photos on a page that is laid out in horizontal grids (the "ground" and the "sky"), it creates attention-grabbing dimension.
4. Found Object Art
This has a dark, edgy vibe we're loving. And you know what we especially love? Found-art scrapbook layouts are inherently easy to create. Why? Well, you aren't confined to just traditional scrapbooking elements. Got a tie-dye kit? Put that ink to work. Found a stencil stashed away? Layer that over the watercolor-esque tie-dye ink. Toss in some photographs for good measure. Voila!
5. Kits & Collections
It honestly can't get much easier when it comes to scrapbooking layouts than using pre-made templates from for-purchase collections. This "Little Explorer" layout is perfect for your own tiny adventurer's baby book — adorable and totally on-trend. These kits are also wonderful for introducing you to ideas you may not have considered otherwise (like this super-cute and tactile thread rainbow).
Scrapbook Page Ideas
1. "Frame" Photo
A super-easy template, this just consists of centering a photo on a page and crafting a pretty frame around it using a variety of supplies: washi tape, stickers, paper cutouts, etc.
2. Mixed Media Background
Use mixed media as a tool to add visual interest to your scrapbooking pages. The tutorial here at Fox + Hazel focuses on repurposing mixed media pages for Valentine's Day cards, but the same concept can easily be applied to scrapbooking for a little extra flair (like the example above).
3. Teeny Tiny Pockets
For all your keepsakes, like movie ticket stubs or old photographs, create a page with fun patterned mini-envelopes to hold all your treasured memories. Find out how at Felicity Jane.
4. Tell a Story
Scrapbooking is all about telling a story by preserving and sharing memories. Why not write down those memories and surround the story on the page with pictures from that special day? Crafter and creative Pam Baldwin offers an excellent walkthrough of this storytelling style on her blog.
5. Scrapbook with Stamps
Stamping adds such a fun element to your scrapbooking routine. You can find stamps in so many sizes, shapes, and styles. Here's a great piece on Heidi Swapp with ideas on upping your scrapbooking game with letter stamps.
Scrapbooking For Beginners
Some scrapbooks are genuine works of art, so if you're looking to create your own, you've come to the right place. Check out our breakdown for beginners so you can reach your scrapbook goals.
Pick a theme
Instead of documenting your entire family history, start with your favorite family vacation. You want to give your scrapbook a focus, and there's nothing wrong with starting small. Think of it as the first chapter. Remember, scrapbooking isn't a race. It's a marathon.
Choose your album size
Odds are, you probably have enough photos to fill the memo, which is why it's important to give yourself a system. Before you begin, buy a blank album first. This allows you to better organize your photos and map out what you need based on the amount of space available.
Pick your pics
Now that you have a theme and know the exact number of photos you can fit into your album, it's time to choose your pictures. During this process, you want to eliminate all the dark and blurry pictures. And happy faces aren't the only thing you want to include. Gather shots of grandma giving some side-eye or your niece mid-tantrum. Make sure there are also pictures of things like a table of presents, a swing set, or a teddy bear.
Don't overdo it
Remember, your scrapbook isn't just for you. It's a book full of memories and experiences you've shared with friends and family. So, in terms of embellishments, stickers and other add ons, try your best to dial it back. Feel free to go nuts on the cover, but try to keep the inside simpler. It's important to make your scrapbook your own, but remember to not overdo it. Don't be afraid to add some written notes and diversify each page. One way to keep your scrapbook under control is to map it out beforehand.
Don't put a photo on every page
Each page of a scrapbook doesn't have to include a photo. Don't be afraid to add a hand-written letter, movie stubs, or stamps to the page. Although the purpose of a scrapbook is to include tons of pictures, some memories aren't photographed. Scrapbooking is an excellent way to include other memorabilia that will bring nostalgia and joy for years to come.
This article was originally published on