Neve Campbell, Courteney Cox & David Arquette Are Back In First 'Scream' Trailer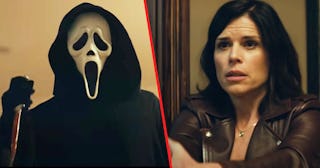 Paramount Pictures/Youtube
The first official trailer for Scream — the fifth installment in the beloved horror franchise — has finally dropped
Hello, Sidney. If the question "Do you like scary movies?" has sent a chill down your spine for the better part of the last 25 years, then we have the best news of the day for you, friend. The first official trailer for Scream, the fifth installment in the beloved horror franchise of the same name, has finally dropped, and it seems Ghostface has returned to Woodsboro for some good old gory fun.
Fans have been eagerly awaiting news about the forthcoming film, which hits theaters on January 14, especially after series star Neve Campbell confirmed she was joining the cast last year. Fan favorites Courteney Cox and David Arquette also confirmed they'd be returning, and even though director Wes Craven's loss is surely felt, it seems with original screenwriter Kevin Williamson returning as an executive producer and so many original Ghostface survivors on board that there will be plenty to keep fans happy and terrified all at once.
Joining the series is a slew of newcomers including Melissa Barrera, Jenna Ortega, Jack Quaid, Mason Gooding, Jasmin Savoy Brown, Dylan Minnette, Mikey Madison, Sonia Ben Ammar, and Kyle Gallner, which no doubt keeps in tune with the original films and their ability to bring an eclectic bunch to the mix. This time, it seems Ortega is the first to be taunted by Ghostface — in the trailer, she can be seen answering her landline (!!), before the killer begins using her smart phone app to lock and unlock her doors. Because, you know, it is 2021 and all.
Campbell's Sidney Prescott then gets the call she always dreads, notifying her that yes, there's yet another killer lurking the streets. Arquette's Dewey Riley asks if she has a gun and she responds, simply, "I'm Sidney Prescott, of course I have a gun." Hell. yeah.
Of course, little else is given away in the trailer, including clues about who the killer might be this time around and how high the body count might be, but there's definitely plenty to feast on, including the fact that Stu's party house makes a return (!!) and some other fun Easter eggs for true fans of the series.
Rest assured, however, that filmmakers are doing everything they can to keep the highly-anticipated film's big reveal under wraps. Director Tyler Gillett recently told Entertainment Weekly that even the cast didn't know until well into filming. "We went as far as to withhold those moments in the script from the actors," he shared. "We wanted everybody involved, to the degree that we could, to be a part of the whodunit. Obviously, you get to a point in the shoot where you have to let the cat out of the bag, but we went pretty far into prep and into production with a surprising amount of secrecy maintained."
It's safe to say that fans are excited — if not a bit nervous — about the survival chances for their series favorites.
Seems like we'll have to wait until January to see what's in store for everyone's favorite trio. Until then, keep checking those door locks. And maybe unplug your landline… just a suggestion, friends.