8 Best Senior Dating Sites For Older Singles Looking To Connect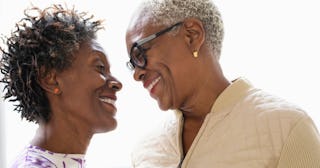 Tetra Images/Getty Images
When you were younger, you probably thought dating got easier as you got older. After all, with age comes wisdom. All the dumb things that the partners in your life did in their 20s seemed less likely to happen at 50, 60, or 70, right? You're laughing now, though, because you know that in every stage of life, there are mistakes and bad choices to make. You're back on the dating scene, again, and the whole thing probably seems overwhelming. There are still giant red flags to look out for when you're dating that 60-something widower, and talking about money is important whether you're 30 or 80. If you're not particularly active in your community (and who is right now?), you may not even feel like there are many singles in your area. So where do you go? Who do you talk to? And how do you meet the next significant other of your dreams? Maybe it's time to try internet dating — specifically, senior dating sites.
For some people, that can seem intimidating. Not you, though. You've made it here, and that's the first step. There are plenty of things to consider in the dating world, like whether you want to find your next spouse or just somebody to take to the movies. Picking the best senior dating sites for creating your dating profile shouldn't be that hard. You probably already know that you're not going to find your soulmate on Bumble or Tinder. Where do you look? A lot of that depends on how old you are, what you want out of the experience, and what you're willing to pay (yes, pay) to get it.
These are our favorite senior dating sites that are particularly useful to those non-millennials out there, and some that even cater to older adults specifically. We'll walk you through the target age range and why we like each one.
Best Senior Dating Sites
1. Match
Target Age: 25-50+
Match is the place to go if you're a "mature single" but don't necessarily consider yourself to be a "senior." It's also ideal if you're looking for just one person to spend your time with, specifically. That's not to say you can't date around or find some really good friends using Match, but most people who join this site are usually looking for something more monogamous. Another reason Match is well-liked? They often host in-person mixers, giving you a chance to meet and interact with singles face-to-face. For many newly single people, face-to-face (and socially distanced) feels a lot safer and easier.
2. eHarmony
Target Age: 25-50+
We wanted to go ahead and get this one out of the way, as it's just as popular as Match. eHarmony works on the premise of helping you find your next "soulmate," so if that's not what you want, skip ahead. Their questionnaire is one of the most thorough you'll find on dating sites and covers everything from how you like your coffee and how you spend your Sundays to how you are with money. The idea? You'll match with someone who lives a similar lifestyle to you.
3. EliteSingles
Target Age: 35-50+
Elite Singles is one of the first sites on our list that starts to weed out a younger generation. You're not going to find anyone looking for their Mrs. Robinson here, although you can still certainly interact with people who might be on the younger side. Elite Single's target demographic seems to encompass more than just an age range, though. You'll also find that the singles you meet here will perhaps seem more polished. That "elite" word is there for a reason. Just take note that they're not doing credit checks and matching up singles in the same tax bracket, so it's still possible to be taken advantage of… like in any toxic relationship, at any age. Elite Singles is another solid option if you're looking for something a little more serious (or at least monogamous).
4. OurTime
Target Age: 50+
While some people don't mind dating someone a little younger than them, it's easy to get caught up in the numbers. Sites like OurTime can help you avoid some of those awkward conversations. If you're in your 60s or 70s, you can safely join OurTime without worrying too much about being paired with someone considerably younger than what you're looking for. OurTime focuses on helping older adults find "true companionship" but knows that looks like different things to different people. Whether you just want a trustworthy "friend" to attend events with (but keep their hands to themselves) or you're looking for something a little more, ahem, passionate, OurTime will help you find just the right companion(s).
5. SilverSingles
Target Age: 50+
If we were going to set our parents up on a dating site, this is the one we'd use. SilverSingles' site is delightfully easy and offers attentive customer service to all users, no matter what free or premium plan you choose. As a bonus, they've put in stringent security measures to ensure that no one is taken advantage of because, trust us, it happens to people of all ages.
6. SeniorSizzle
Target Age: 50+
Not everyone wants to find a second soulmate later in life. If you were widowed, you might feel as though your late spouse was the only one for you — in which case, you aren't super interested in "finding lasting love" again. Still. We all have needs, right? SeniorSizzle caters to said needs. It is, in essence, a "hook-up" site. What does that mean? It helps you meet with other older singles looking to spend a night or two together, but nothing too serious. Just a cautionary note: STDs/STIs are still a major issue among seniors. So, as the youths say, "wrap it before you tap it."
7. Senior Friend Finder
Target Age: 50+
On the opposite end of the spectrum is Senior Friend Finder. While it's possible to find "hook-ups" from SFF, you're more likely to find someone you can enjoy life with.
8. SeniorMatch
Target Age: 45+
SeniorMatch came on the scene in 2003 and doesn't allow anyone under the age of 45 to join. It is strictly for mature users and dedicated to providing a safe and comfortable space for them to interact. It also has a simple communication system that's perfect for older users. There aren't any bells and whistles either. Users can send each other winks to show interest, and when they're ready, they can message each other.
How often do 60-year-olds make love?
Don't count older adults out when it comes to having a fun sex life. In fact, among 60 to 70-year-olds, 46 percent of men, and 38 percent of women have sex once a week, according to an AARP survey. And 34 percent of those in that data set were 70 years old or older. The National Council of the Aging also found that half of Americans 60 or older have sex at least once a month and almost half desired to make love more often.
Online Dating Etiquette For Seniors
When dating online, it's important to present yourself properly in your profile and to set boundaries and expectations for your matches. Here are a few tips to dating in cyberspace.
When writing your profile, make sure to create an image that will attract the person you want to meet. Take time making your profile, and remember to be honest.
To get matches, it's important to use clear and bright photos. Pictures of you smiling are always a winner. And try to include shots of your doing your favorite activities, like hiking or painting.
Only meet with a person you're 100 percent comfortable with. There's no rush at any age. Take your time.
Being older means you've had experiences younger people haven't. It may be filled with stories about loss, divorce, or other hardships. Although it's important to be honest, the first date may not be the best time to delve into those parts of your life. But who knows? Maybe your date is just as eager to share their experiences. (Feel the room.)
This article was originally published on