Alert: Jack In The Box Is Testing Boba Teas
It's the first traditional fast food chain to try serving the increasingly popular milk teas.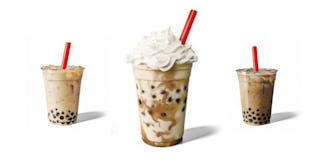 Jack In The Box
The boba tea craze has been going strong for a while now. Also known as bubble tea or milk tea, the Taiwanese sweet treat, which is filled with cute, suspended spheres of sweetened tapioca, has been gaining popularity among both kids and adults across the United States in recent years, especially with the help of Gen Z.
How do you know a food item is getting really popular? When fast food chains take notice. News dropped this week that burger chain Jack In The Box is entering the boba tea game by testing out three new milk tea drinks — and reviews are pouring in from YouTube and TikTok.
The drinks are currently being tested in three cities in southern California — San Diego, Long Beach, and Torrance — though they might spread over time depending on their reception by customers.
There are three different bubble tea drinks on offer right now: milk tea with boba, iced coffee with boba, and milkshake with boba. According to Jack In The Box, the milk tea drink is, "Freshly brewed tea with sweetened cream and vanilla, served over ice with brown sugar Boba," the iced coffee is, "Chilles High Mountain Arabica coffee with sweetened cream and vanilla served over ice with brown sugar Boba," and the vanilla shake is, "a thick and creamy Vanilla Shake made with brown sugar Boba and a whipped topping."
The two traditional drinks sell for $4.74, while the milkshake comes in at $6.24.
There's no word on how long the drinks will be available, whether they will become available nationwide, or if they will be a limited item.
Reviews so far are mixed. One mom on TikTok gave a milkshake to her kids, and they gave it a confident thumb's up.
But over on UPROXX, a food reviewer had a different take, stating that he wouldn't buy the drinks again based on the consistency of the tapioca pearls, which were too gummy compared to the ones he gets at his favorite tea specialty stores.
This is the first major fast food lunch and dinner restaurant to dip their toe into boba-filled waters. Previously, though, Baskin-Robbins introduced a milk bubble tea for a limited time and coffee giant Starbucks briefly tried a boba iced coffee and a boba milk tea that didn't last long on the menu. Is this a drink that only belongs in specialty shops? Time will tell.