KFC, Zaxby's, & More Among The Chains Giving Moms Fast Food Freebies For Mother's Day 2023
If anyone deserves free nuggets, it's you.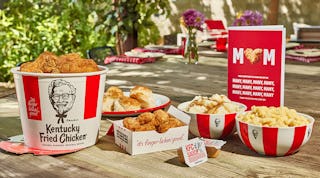 Courtesy of KFC
Mother's Day is supposed to be a day for moms everywhere to relax and get a little pampering from their partners and kids. But the reality of the holiday is often far more complicated. Whether your little ones insist on "cooking" you a breakfast of burnt toast and crunchy scrambled eggs, or your partner plans an experience that's more exhausting than it is fun, the end result is likely to leave you craving a nap. Fear not; no matter where Mother's Day leads you this year (or how tired you end up), at least there are plenty of fast food freebies to keep you going throughout the day.
Free fast food isn't quite as nice as a delicious homecooked meal made by your partner or gourmet chef of a teen, but it is a pleasant little mom perk on a day that tends to be super busy. If your fam has zero ideas about what to eat this Mother's Day (which falls on May 14 this year), or if you're hitting the road and need to grab a quick bite, you might want to head somewhere like Zaxby's or KFC.
The friend chicken favorites are just two of a number of chain restaurants that plan on giving moms something they really want for Mother's Day: a day off from worrying about what's for dinner.
Where can moms score fast food freebies for Mother's Day 2023?
Every year, various chain restaurants roll out specials ahead of Mother's Day. Some chains offer freebies — KFC is showing mom some nugget love — and others have special discounts. Here's a roundup of all the places you should hit up this weekend if you're looking for some tasty and low-cost Mother's Day treats. (Offers vary by location, so check with your local franchise before making a special trip. )
Auntie Anne's: On May 14, the soft pretzel stop is treating customers to a half-off deal. Buy any full-priced pretzel or drink and get a second one for 50% off. Additionally, if you're an Auntie Anne's app user, any gift card purchase you make between now and June 25 (hey, there's a Father's Day perk, too!) will unlock a free original or cinnamon sugar pretzel via the app.
Chicken Salad Chick: On May 12, the chicken salad restaurant will celebrate moms early with a special BOGO deal. Buy any large Quick Chick, and you'll get a second large Quick Chick of your choice for free.
Gong Cha: The milk and bubble tea franchise is keeping moms hydrated this weekend. When you buy one bubble tea, you'll get a sparkling tea for free.
KFC: Beginning on Día de las Madres (May 10) and running through Mother's Day (May 14), the fried chicken chain is offering up KFC's Nuggets of Appreciation meal on its app and website. The meal includes either bone-in chicken or eight chicken strips with two large sides, dipping sauce, and a free eight-piece order of KFC's new chicken nuggets. Additionally, the meal comes with a free, downloadable Mother's Day card in English and Spanish... so if you get one of those from your kiddos, try to act surprised.
PJs Coffee: Check out the list of participating locations before you go, but moms in Louisiana and a couple of other southern locales can get a free 12-ounce coffee this Mother's Day.
TCBY: Say yes to your kids if they beg for something sweet this Sunday. Throughout the day on May 14, TCBY is giving moms up to six ounces of free frozen yogurt.
White Castle: Stop by between May 12-14, and you can get a free dessert on a stick with any purchase. If you're craving tiny hamburgers on May 15, swing by White Castle again for a free cheese slider in honor of National Slider Day.
Zaxby's: Between May 12-14, any purchase of an adult meal via the Zaxby's app will also earn you a free kid's meal you can give to your kids — or snack on yourself. Totally your call.
No matter how hectic Mother's Day may get this year, just remember there's some free fast food comfort just a short drive away.