Joanna Gaines' Adorable New Wooden Toy Line Just Dropped At Target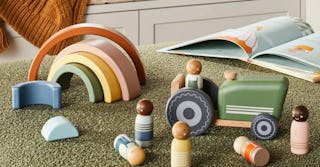 Target / Hand & Hearth with Magnolia
We may receive a portion of sales if you purchase a product through a link in this article.
If you're thinking of stocking up on Christmas gifts a little early this year, you might want to take a peek at the new toy line at Target designed by Fixer Upper star Joanna Gaines.
Gaines and her husband, Chip Gaines, have had their home decor line, Hearth & Hand, in Target stores for years and it's included toys at times — like dollhouses and a wooden Christmas-themed train. Well, now the co-founder of the lifestyle brand Magnolia is back with another line of adorable wooden toys with a Montessori feel that will fit in perfectly with any aesthetically pleasing playroom.
The wooden toys feature light and neutral colors with simple designs that could fit in with an adult-looking living room. No plastic or battery-operated toys here. These toys lean into the Montessori-style of play which encourage curiosity and sensory-based learning, allowing the kid to lead the activity rather than the toy taking charge.
Gaines' new toys range from farm-themed toys to an adorable work bench that you'll want to add to your cart ASAP.
One staple to any wooden toy collection is a stacking rainbow. Suitable for ages 2+, this wooden stacking toy features 6 pieces of rainbow in muted colors carved out of wood that feature U-shaped designs.
For older kids who are interested in the weather and seasons, Hearth & Hand with Magnolia designed an adorable weather board that kids can switch out depending on which way the wind is blowing. This 15-Piece Toy Weather Station is made with bamboo material and includes a weather board chart with temperature thermometer, humidity dial and more. Plus, it's a STEM toy too!
For Chip Gaines fans who want to get a little more hands-on when it comes to their play, Hearth & Hand with Magnolia designed a tool bench for the budding handy person. With toy saws, wrenches, mallets, and the other tools that come in this 32-piece set, kids can run their workshop on their own.
Taking a different twist on the traditional farm play set that most kids have, Hearth & Hand with Magnolia introduced a wooden chicken coop set into their toy line. This toy set includes a chicken coop with several wooden hens that your kid will take in and out of their coop via a small wooden ramp.
For parents looking for quite possibly the most adorable and easy on the eyes wooden train set to ever exist, look no further than the 84-piece toy train track set from Hearth & Hand with Magnolia.
This toy set, made of wood and metal, includes a track, trains, bridge, wooden trees, a windmill, several cars, figurines, and buildings to really make an entire town filled with imaginative play opportunities for your little one.
For the kids who are always asking to help in the kitchen, the Gaines' added a wooden play grill to their toy line that would be the perfect addition to any existing play kitchen. The grilling playset includes tons of wooden food accessories such as a burger, corn, and even mustard and ketchup bottles.
Some other new additions to the Gaines' Hearth & Hand with Magnolia toy line include an adorable green tractor, woodland animals, a star gazing tent, a wooden block set, and a ride-in wagon.
See the entire line Hearth & Hand with Magnolia toy line here.