🎶 i'll be there for you 🎶
There's A 'Friends' Themed Polly Pocket Compact & Could It Be Any Cuter?
They seriously nailed this!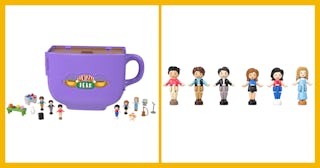 Mattel
We may receive a portion of sales if you purchase a product through a link in this article.
Two legendary icons of the '90s have come together to make the most nostalgic toy that is sure to bring joy to every millennial parent.
Mattel has launched the Polly Pocket Friends Compact where tiny little versions of Ross, Rachel, Monica, Joey, Phoebe and Chandler are all included in this adorable compact that's in the shape of a purple coffee cup (a la Central Perk and the color of the walls in Monica and Rachel's apartment).
"Polly Pocket is a core member of the Mattel doll family and one that is packed with big surprises that offer kids and fans of all ages storytelling adventures. We are thrilled to expand Polly's pocket-size world with the first Polly Pocket collector collaboration, the Polly Pocket Friends Compact," Lisa McKnight, Executive Vice President and Global Head of Barbie & Dolls, Mattel said in a statement.
"This compact marks a milestone in the Polly Pocket Collector series and allows our fans of all ages to reenact some of the best moments from the famed show and continue to build their relationship with Polly Pocket."
This new set includes so many core moments of the Friends series like when Joey gets the turkey stuck on his head (and then Monica too!), Chandler and Joey's loungers as well as their pets: the chick and the duck, Phoebe's guitar and microphone, and that birthday flan Monica made in "The One With Two Parties." They also really nailed Ross' gelled hair.
"Whether young, or young at heart, consumers and fans can take the cast right from Central Perk from a coffee break, up a few flights of stairs to the crew's apartments," Mattel says.
The set includes nine accessories and features some Easter eggs that only true Friends fanatic will be able to sniff out.
"Perfect for collectors, this set comes in premium displayable packaging with high quality materials and intricate details that celebrate the Friends fandom," the website reads.
The special toy is being released in advance of Warner Bros. Discovery's Friends Fan Week, which is a weeklong celebration leading up to International Friendship Day on Sunday, July 30.
"At a time when the desire to be with our loved ones has never been stronger, FRIENDS has resonated with millions of viewers around the world reaching generations of fans with its message of "friends as family," the Warner Bros. website reads.
Mattel has already had major success with toy/TV mash-ups with its successful Little People Collector series where the brand has turned The Lord of the Rings, Teenage Mutant Ninja Turtles, The Office, and of course, the cast of Friends into the tiny figurines.