Sorry To Tell You, But Target Has A New Viral Cup That You Need
It's 2-in-1 feature has people running to snag it before it sells out.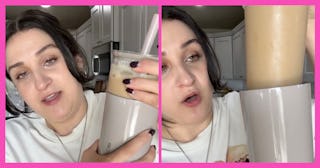 @withonen / TikTok
We may receive a portion of sales if you purchase a product through a link in this article.
Now, hear me out before you totally shut down. Sure, your cabinet is filled to the brim with reusable cups and thermoses already. You have a Stanley, an Owala, a Hydroflask and probably some form of gallon water bottle with those little "Almost there!" type of markings on them when you made that New Year's Resolution to drink more water.
But this new viral cup, now on Target and Walmart shelves or online, has a nifty two-in-one feature that makes it different from all the rest, and TikTok is going bananas over it.
The Reduce 20oz Aspen Vacuum Insulated Stainless Steel Glass Tumbler has caught the eye of several TikTok users who are raving about the cup.
TikTok user @withonen went viral for her review on the viral Target cup, gaining over 800k views in just a few days.
"For those that like their iced coffee from a glass cup, I found the perfect to-go cup," she says.
What makes the Reduce glass cup so different from other cups lies in its two-in-one design where the base of the cup is glass, but also contains an insulated cover for the glass base which they call a "vacuum insulated stainless steel tumbler."
For those who cannot stand a cup that sweats, dripping water, and leaving rings on furniture, the Reduce 20oz Aspen Vacuum Insulated Stainless Steel Glass Tumbler fixes that issue
"What's cool about it is that you have the glass cup on the top, but then you have this part so all the condensation stays inside and your drink stays cold, and it's perfect," the OP continued.
If the glass base isn't your thing, the lip can be unscrewed and put onto of the insulated part as well for a smaller fit.
After the cup went viral, several TikTok users praised the design for its versatility and unique design.
The cup keeps drinks cold for up to 12 hours, features a larger straw for smoothies or boba tea drinkers, washes in the dishwasher and contains no BPA.
Get all the details on the new viral cup here.