Hydro Flask Just Revealed A New Water Bottle — And It Looks Just Like A Stanley Cup
They also claim this one doesn't leak!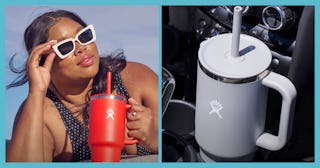 Hydro Flask
We may receive a portion of sales if you purchase a product through a link in this article.
Summer is here, and a reusable, insulated water bottle is a great way to reduce plastic use and stay cool. Reusable water bottles have become somewhat of a trend with so many people literally picking a brand and devoting their unwavering loyalty to them.
From Camelbak to Yeti to Klean Kanteen, there are so many great brands of water bottles — and they all want your sole allegiance. However, once TikTok got a hold of the Stanley water bottle, the cups were flying off the shelves and limited editions were turning collectible fast.
Some TikTok content creators literally have their entire account dedicated to their Stanley collections. The cup became somewhat of a phenomenon. It only makes sense that other water bottle companies decided to innovate and see if they could come up with something similar — or even better.
And now, yesterday, another super-popular water bottle company — Hydro Flask — posted a soft launch of their newest cup on their TikTok account. And it looks a whole lot like a Stanley cup.
The caption read, "👀 6.21.23" along with a clip of the new tumbler's silhouette.
Introducing: the Hydro Flask All Around Travel Tumbler.
The Hydro Flask All Around Travel Tumbler is the "cupholder copilot with a handle and straw to sip any which way."
The tumbler comes in two sizes — 32 oz and 40 oz — along with a flexible straw and an ergonomic handle for easy "on-the-go" drinking. The design of the new cup looks very, very similar to the infamous Stanley cup.
The tumbler prices run about the same as a Stanley cup, with the 40 oz cup costing $44.95 and the 32 oz costing $39.95.
As a loyal Hydro Flask user, this is truly a dream come true. I have loved my Hydro Flask for years, donned it with funny stickers and brought it to my hot yoga classes. However, though my Hydro Flask kept my water perfectly cold, it never fit in my car's cup holders. When I would drive around, my Hydro Flask would roll around on the floor, as I prayed it wouldn't spill all over.
With the cup holder compatible Travel Tumbler, this will no longer be an issue.
Hydro Flask also offers optional engraving for an extra fee to "make sure yours stays yours."
The cheeky video soon went viral — with over 2 million views— and Hydro Flask fans going absolutely berserk over the announcement.
"DONT END STANLEY LIKE THAT," one user wrote.
Another said, "I just know it won't have any leaks."
"YESS i've been loyal and haven't bought a stanley bc i've been waiting for this moment," another said.
"Did hydro just soft launch their newest product?" one TikTok user asked.
To which the official Hydro Flask TikTok account responded, "Maybe… 👀"
The very next day, Hydro Flask revealed the new tumbler.
While showcasing the new cup in a video response to a fan's comment that read "Hydro Flask has entered the chat!", the water bottle company panned a light pink version of the tumbler with the phrase, "For the REAL ones" engraved on it.
"We'll take it from here 😉 6.21.23 #TravelTumbler," the caption read.
The video soon went viral, gaining over 2 million views in less than 24 hours, with Hydro Flask fans chomping at the bit over the new cup.
"THE REAL ONES are the hydro flask stans who never bought a stanley bc we're loyal," one user wrote.
"DOES IT LEAK I NEED TO KNOW," one user asked.
"It has a snug, secure, splash-resistant lid 💧," the official Hydro Flask account responded.
For those chomping at the bit to get their hands on the 40 oz Hydro Flask Travel Tumbler, you're going to have a wait a bit.
The new design sold out of stock in less than 24 hours. However, the 32 oz cup is still available for purchase in most colors.