The Summer Walmart Toy Clearance Is Back. Here Are The Best Deals
It's a great time to get ahead of holiday shopping.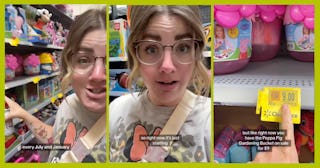 @torok.coupon.hunter/TikTok
We may receive a portion of sales if you purchase a product through a link in this article.
Walmart has two big toy clearance events each year: the January post-holiday sell-off and the big summer sale that makes room for back to school items. The summer sale is just beginning and prices will drop even further as the weather heats up. Here's what you need to know about the sale and the best deals we see right now.
For a great insider look, coupon extraordinaire Torok Coupon Hunter (@torok.coupon.hunter on TikTok) went to her local Walmart and gave everyone the deets on what is a great opportunity for parents to buy holiday presents ahead of time at great prices — or to get some summer fun goodies at a good price.
"It's finally happening again," she begins. "The infamous Walmart toy clearance is back. So if you want to score toys up to 90% off, you need to stop, listen to what I say and let me show you what I got. Every January and July, Walmart starts their epic toy clearance event. It's just a way to cycle out toys. There's nothing wrong with them Often times, it's a repackage, they're clearing the toy out, or they are just not going to carry it anymore."
"These aren't even the lowest prices, they will continue to drop over the next couple weeks until they hit 90% off," she says. "Run to Walmart, and look and see what toys they're already marking down for clearance. And just keep and eye on them and wait for them to drop."
In previous years she says she's scored Barbies for 50 cents, baby dolls for a dollar, and Disney Doorables for 75% off. And right now in her store, she sees Leap Frog, Peppa Pig, Baby Alive, puzzles, board games, and all sorts of Legos with yellow clearance tags already.
Even if you aren't in dire need of more toys in your house at the moment, this is a great time to think ahead for the year.
"This is the perfect time to stock up on birthday gifts, I keep them in a closet so any time my kids are invited to a birthday party I have a toy that's cool and super cheap," she explains. "Also a really great time to start stocking up for Christmas. I know it's going to be freaking July, but hear me out, you stash them away and you're ready for Christmas and you're not paying the crazy mark-up prices in December."
In addition, this is a great opportunity to buy toys for donation so that your giving dollars go farther.
"This is also a really great time to stock up on toy donations," she explains. "We use this as a time to stock up on toys when they're super cheap on clearance and then donate them every Christmas."
You might be wondering if Walmart toys go on clearance online, too. Yes, they do, but it works a little differently since warehouses get rid of inventory in different ways than stores do. But here are a few great deals going on virtually right now.