Target Is Pulling Some Of Its Pride Merchandise Due To Threats
Among the controversial items is an "tuck friendly" adult swimsuit.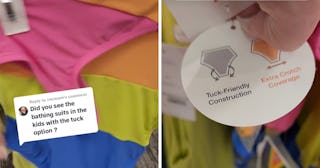 @theycantfiguremeout ? TikTok
Target is usually something that everyone can agree on — liberals and conservatives and everyone in the middle. And their commitment to giving support and visibility to marginalized groups is usually met with praise. For example, in the past, the stores have offered adaptive Halloween costumes, actual cute plus-sized clothing, and toys for neurodivergent kids.
But now Target's attempt to offer a Pride line of clothing that helps queer, trans, and non-binary adults feel comfortable and confident is backfiring, largely due to misinformation and fear-mongering spread by far-right conservatives.
Due to "threats" to employees, Target finally backed down on Tuesday and said it would remove the items at the center of the controversy, which though not specifically listed, probably includes a "tuck friendly" adult swimsuit that has been all over social media.
"For more than a decade, Target has offered an assortment of products aimed at celebrating Pride Month. Since introducing this year's collection, we've experienced threats impacting our team members' sense of safety and wellbeing while at work," a company spokesperson told USA Today. "Given these volatile circumstances, we are making adjustments to our plans, including removing items that have been at the center of the most significant confrontational behavior. Our focus now is on moving forward with our continuing commitment to the LGBTQIA+ community and standing with them as we celebrate Pride Month and throughout the year."
Target's Pride collection is large and colorful — and although there are lots of Pride products for kids, like rainbow T-shirts with simple messages about love — some conservatives are claiming that Target is selling gender non-conforming swimsuits for kids, such as suits that have top binders and tuck options.
This is, of course, not the case. But videos claiming that Target is encouraging kids to "be trans" are going viral for all the wrong reasons, and conservative Karens are having totally ridiculous freak-outs about "grooming."
Even videos proving the original videos wrong are not clearing up the confusion.
A quick look at the Target website confirms that the gender-bending suits are for adults — but apparently that didn't stop the threats and Target was forced to walk back their inclusive clothing.
Pride doesn't start until June and most of these items have been on shelves since early May. And while there's no evidence that kids have been harmed by these very slightly different suits for adults, trans and non-binary people have spoken out about how much the suits mean to them.
At the same time, moms have gone to Target and confirmed that the bathing suits are only in the Pride section, not in the kids' section at all.
"I found ONE, but it's not in women's, boy's, girl's, toddler's... the only option was in the Pride section and adult sizes," said @theycantfiguremeout, who went straight to the source to confirm the issue.
The outcry against Target seems to be part of a larger push by conservatives on the right to discriminate and exclude trans and non-binary people — and especially to "save" children from being exposed to anyone who does not conform to their gender (in case you need to hear it, there is zero evidence that being around trans people influences kids to become trans). This push has led to dangerous laws passing in states across the country that takes rights away from trans people and medical options away from trans kids.
It will be interesting to see how long these outraged parents can boycott Target... or if this will be forgotten.
Even if Target has pulled some of the controversial items from some shelves, all the Pride swimsuit styles are still available on Target's website, along with all of their other Pride goodies.