17 Short Scary Stories You Definitely Don't Want To Read Alone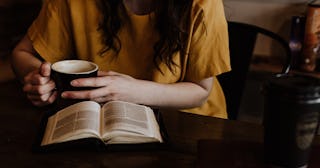 Priscilla Du Preez/Unsplash
Fall is practically on our doorstep and you know what that means. There are plenty of cold, dreary evenings ahead. We don't know about you, but we think the best way to fill those evenings is by sipping on some Pumpkin Spice Latte or hot cocoa and doing some leisure reading. Of course, between working from home during a global pandemic and taking care of kids, we're finding less and less time to enjoy entire books. All of our friends finished Where The Crawdads Sing months ago and, while we love it, we're still on the second chapter. Novels just don't fit into many moms' lifestyles. Short stories, though? Those work perfectly!
We sneak quick reads while waiting for our grocery pickup or on our rare outings alone to Starbucks. We also occasionally get to enjoy a short story or two during a rare post-bedtime bath. While we spent our summer lost in "trashy romance" and erotic literature, this season is meant for something entirely different. It's time to turn up the spook factor. Autumn is for fun and indulgence and all things eerie.
These short, scary stories are written by some world-renowned writers. They're quick, creepy, and sure to make your heart race whether it's Halloween season or not. What more could you want during a candlelit rainy day soak in the tub after spending all day entertaining your kiddos with fall activities.
Looking for other ways to whet your spooky appetite? Explore our scariest lists, which include Halloween movies, scary facts, scary games, Halloween jokes, and much more.
Short Scary Stories Sure to Quicken Your Pulse
1. "Lacrimosa" by Silvia Moreno-Garcia
"The woman is a mound of dirt and rags pushing a squeaky shopping cart; a lump that moves steadily, slowly forward, as if dragged by an invisible tide. Her long, greasy hair hides her face but Ramon feels her staring at him." Continue…
2. "The Body-Snatcher" by Robert Louis Stevenson
"Every night in the year, four of us sat in the small parlour of the George at Debenham — the undertaker, and the landlord, and Fettes, and myself. Sometimes there would be more; but blow high, blow low, come rain or snow or frost, we four would be each planted in his own particular arm-chair." Continue…
3. "The Lady Of The House Of Love" by Angela Carter
"At last the revenants became so troublesome the peasants abandoned the village and it fell solely into the possession of subtle and vindictive inhabitants who manifest their presences by shadows that fall almost imperceptibly awry, too many shadows, even at midday, shadows that have no source in anything visible; by the sound, sometimes, of sobbing in a derelict bedroom where a cracked mirror suspended from a wall does not reflect a presence; by a sense of unease that will afflict the traveller unwise enough to pause to drink from the fountain in the square that still gushes spring water from a faucet stuck in a stone lion's mouth. A cat prowls in a weedy garden; he grins and spits, arches his back, bounces away from an intangible on four fear-stiffened legs. Now all shun the village below the chateau in which the beautiful somnambulist helplessly perpetuates her ancestral crimes." Continue…
4. "The Landlady" By Roald Dahl
"Billy Weaver had travelled down from London on the slow afternoon train, with a change at Swindon on the way, and by the time he got to Bath it was about nine o'clock in the evening and the moon was coming up out of a clear starry sky over the houses opposite the station entrance. But the air was deadly cold and the wind was like a flat blade of ice on his cheeks." Continue…
5. "Abraham's Boys" by Joe Hill
"Maximilian searched for them in the carriage house and the cattle shed, even had a look in the springhouse, although he knew almost at first glance he wouldn't find them there. Rudy wouldn't hide in a place like that, dank and chill, no windows and so no light, a place that smelled of bats. It was too much like a basement. Rudy never went in their basement back home if he could help it, was afraid the door would shut behind him, and he'd find himself trapped in the suffocating dark." Continue…
6. "Patient Zero" by Tananarive Due
"September 19
The picture came! Veronica tapped on my glass and woke me up, and she held it up for me to see. It's autographed and everything! For you, Veronica mouthed at me, and she smiled a really big smile. The autograph says, TO JAY—I'LL THROW A TOUCHDOWN FOR YOU. I couldn't believe it. Everybody is laughing at me because of the way I yelled and ran in circles around my room until I fell on the floor and scraped my elbow. The janitor, Lou, turned on the intercom box outside my door and said, "Kid, you gone crazier than usual? What you care about that picture for?"" Continue…
7. "The Signal-Man" by Charles Dickens
""Halloa! Below there!"
When he heard a voice thus calling to him, he was standing at the door of his box, with a flag in his hand, furled round its short pole. One would have thought, considering the nature of the ground, that he could not have doubted from what quarter the voice came; but instead of looking up to where I stood on the top of the steep cutting nearly over his head, he turned himself about, and looked down the Line. There was something remarkable in his manner of doing so, though I could not have said for my life what. But I know it was remarkable enough to attract my notice, even though his figure was foreshortened and shadowed, down in the deep trench, and mine was high above him, so steeped in the glow of an angry sunset, that I had shaded my eyes with my hand before I saw him at all." Continue…
8. "The Lottery" by Shirley Jackson
"The morning of June 27th was clear and sunny, with the fresh warmth of a full-summer day; the flowers were blossoming profusely and the grass was richly green. The people of the village began to gather in the square, between the post office and the bank, around ten o'clock; in some towns there were so many people that the lottery took two days and had to be started on June 26th, but in this village, where there were only about three hundred people, the whole lottery took only about two hours, so it could begin at ten o'clock in the morning and still be through in time to allow the villagers to get home for noon dinner." Continue…
9. "The Tell-Tale Heart" by Edgar Allan Poe
"True! –nervous –very, very dreadfully nervous I had been and am; but why will you say that I am mad? The disease had sharpened my senses –not destroyed –not dulled them. Above all was the sense of hearing acute. I heard all things in the heaven and in the earth. I heard many things in hell. How, then, am I mad? Hearken! and observe how healthily –how calmly I can tell you the whole story." Continue…
10. "The Truth Is A Cave In The Black Mountains" by Neil Gaiman
"You ask me if I can forgive myself? I can forgive myself for many things. For where I left him. For what I did. But I will not forgive myself for the year that I hated my daughter, when I believed her to have run away, perhaps to the city. During that year I forbade her name to be mentioned, and if her name entered my prayers when I prayed, it was to ask that she would one day learn the meaning of what she had done, of the dishonour that she had brought to my family, of the red that ringed her mother's eyes." Continue…
11. "The Call Of Cthulhu" by H.P. Lovecraft
"The most merciful thing in the world, I think, is the inability of the human mind to correlate all its contents. We live on a placid island of ignorance in the midst of black seas of infinity, and it was not meant that we should voyage far. The sciences, each straining in its own direction, have hitherto harmed us little; but some day the piecing together of dissociated knowledge will open up such terrifying vistas of reality, and of our frightful position therein, that we shall either go mad from the revelation or flee from the deadly light into the peace and safety of a new dark age." Continue…
12. "The Legend of Sleepy Hollow" by Washington Irving
"In the bosom of one of those spacious coves which indent the eastern shore of the Hudson, at that broad expansion of the river denominated by the ancient Dutch navigators the Tappan Zee, and where they always prudently shortened sail and implored the protection of St. Nicholas when they crossed, there lies a small market town or rural port, which by some is called Greensburgh, but which is more generally and properly known by the name of Tarry Town. This name was given, we are told, in former days, by the good housewives of the adjacent country, from the inveterate propensity of their husbands to linger about the village tavern on market days. Be that as it may, I do not vouch for the fact, but merely advert to it, for the sake of being precise and authentic. Not far from this village, perhaps about two miles, there is a little valley or rather lap of land among high hills, which is one of the quietest places in the whole world. A small brook glides through it, with just murmur enough to lull one to repose; and the occasional whistle of a quail or tapping of a woodpecker is almost the only sound that ever breaks in upon the uniform tranquillity." Continue…
13. "The Black Cat" by Edgar Allan Poe
"For the most wild, yet most homely narrative which I am about to pen, I neither expect nor solicit belief. Mad indeed would I be to expect it, in a case where my very senses reject their own evidence. Yet, mad am I not — and very surely do I not dream. But to-morrow I die, and to-day I would unburden my soul. My immediate purpose is to place before the world, plainly, succinctly, and without comment, a series of mere household events. In their consequences, these events have terrified — have tortured — have destroyed me. Yet I will not attempt to expound them. To me, they have presented little but Horror — to many they will seem less terrible than barroques." Continue…
14. "Carmilla" by Sheridan Le Fanu
"The first occurrence in my existence, which produced a terrible impression upon my mind, which, in fact, never has been effaced, was one of the very earliest incidents of my life which I can recollect. Some people will think it so trifling that it should not be recorded here. You will see, however, by-and-by, why I mention it. The nursery, as it was called, though I had it all to myself, was a large room in the upper story of the castle, with a steep oak roof. I can't have been more than six years old, when one night I awoke, and looking round the room from my bed, failed to see the nursery maid. Neither was my nurse there; and I thought myself alone. I was not frightened, for I was one of those happy children who are studiously kept in ignorance of ghost stories, of fairy tales, and of all such lore as makes us cover up our heads when the door cracks suddenly, or the flicker of an expiring candle makes the shadow of a bedpost dance upon the wall, nearer to our faces." Continue…
15. "Selfies" by Lavie Tidhar
In one of the last pictures I am running. I am running down the street and it is dark, the street lamps are dim and the light oozes down sickly and yellow. I can feel my heart almost bursting in my chest, the taste of something sour and unpleasant in my mouth. I'm running as fast as I can. I have to get away.
The moon is a sickle moon. Its cheek is pockmarked with acne scars. It looks down on me; it hangs overhead like a malformed knife. They're running behind me and they're gaining. They're not even running hard. They spread out around me, they match their pace to mine, easily, without effort. They whisper my name: Ellie, Ellie. Just ahead is the rusty iron gate to the old playground." Continue…
16. "All the Fabulous Beasts" by Priya Sharma
"Eliza, tell me your secret."
Sometimes I'm cornered at parties by someone who's been watching me from across the room as they drain their glass. They think I don't know what's been said about me. Eliza's odd looking but she has something, don't you think? Une jolie laide. A French term meaning ugly-beautiful. Only the intelligentsia can insult you with panache. I always know when they're about to come over. It's in the pause before they walk, as though they're ordering their thoughts. Then they stride over, purposeful, through the throng of actors, journalists, and politicians, ignoring anyone who tries to engage them for fear of losing their nerve.
'Eliza, tell me your secret.'
'I'm a princess.'
Such a ridiculous thing to say and I surprise myself by using Kenny's term for us, even though I am now forty-something and Kenny was twenty-four years ago." Continue…
17. "Cow's Head" by S. E. Schlosser
Oksana lived in a small house on the edge of town with her father, her stepmother, and her stepsister. Oksana's stepmother disliked Oksana, favoring her true daughter, Olena.
Soon after her father's remarriage, Oksana found that all the housework fell to her while Olena idled her days away. Oksana's father was a timid man, and could not bring himself to defy his wife. So Oksana wore Olena's cast-off clothes, and her hands grew red and chapped from scrubbing in the cold, while Olena attended parties, growing lazy and spoiled.
One year, when the winter snows were particularly fierce, Oksana's family ran out of money. Oksana's stepmother began nagging her father to send Oksana away, because they could not afford to keep two girls. Reluctantly, Oksana's father agreed. He took Oksana to a cottage deep in the woods and left her there. Continue…
This article was originally published on