What Is A Sip And See? Bring On The Bubbly And Toast To Your New Addition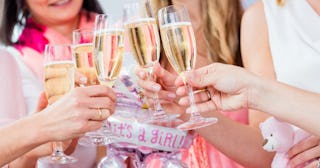 Arne Trautmann/EyeEm/Getty Images
On the hunt for all things baby shower? Check out our pages on baby shower invitation wording, baby shower games, push present ideas, and baby shower centerpiece ideas.
If you're welcoming a little one into your world soon, you may be close to one of your first super-fun parenting milestones: baby shower time. And, quite possibly, you have a cadre of well-meaning friends and family hounding you about what type of baby shower you want to have. One of the options? A sip and see party. If you have no clue what that is, well, don't worry. We're here to fill in all the blanks so you can partake of this perhaps lesser-known but certainly no less fun baby-celebrating soirée.
Of course, baby showers now are different than baby showers of just last year. Due to the coronavirus pandemic, you may not feel comfortable having a baby shower yet at all. That's totally OK (and reasonable)! So, keep reading to find out everything you need to know about a sip and see — plus, how you can have it in a pandemic-approved way if you'd prefer.
What is a sip and see?
You're probably pretty familiar with traditional baby showers, which are held so that everyone can celebrate your baby before the bundle of joy arrives. Sometimes, though, a traditional baby shower isn't possible. Maybe Mama's on bed rest. Maybe the timing just wouldn't work out. Or, you know, maybe a global pandemic throws a wrench in everything. Enter, the sip and see.
This type of party, believed to have originated in the South, takes place after baby is born or adopted. Guests are invited over to see the baby, congratulate the new parent(s), and enjoy some bevvies and light refreshments while they ooh and ahh over the new little lovebug. Mimosas and cuteness? Yes, please!
Sip and sees can be set up as a sit-down, like a traditional baby shower, or as more of an open house or drop-by. It's a perfect option for those who can't have a traditional baby shower (or simply aren't interested in one), which explains why it's grown in popularity seemingly exponentially over the last few years. It would also be a great option for those who no longer live in their hometown but will be visiting it once baby arrives. Because let's be real, you know your grandma wants to show that child off to everyone within a 100-block radius.
When do you have a sip and see?
One of the greatest things about a sip and see is that there's no rush to pin down a date that may or may not end up working. Since this is a post-facto celebration, you can focus on other baby-related needs (hello, nesting!) until baby makes their debut. Once baby is born, you can start thinking about a date depending on how you feel. In general, a sip and see takes place anytime from around two weeks after baby's birth or adoption to a few months after.
Who hosts the party?
Unlike traditional baby showers which are typically hosted by friends, family, co-workers, or other volunteers, sip and sees are often hosted by the new parent(s). Having said that, it's your party and you can delegate if you want to. You may still be sleep deprived and wearing ice diapers — call in for reinforcements if you need 'em, Mama.
Who gets sip and see invitations?
This one's up to you! However, we will say that sit-down sip and sees are generally much more intimate than baby showers. You might only invite a handful of your closest friends and family. For an open house type of sip and see, you can invite more people. Just keep in mind that you don't want baby to get overwhelmed, so try to stagger how many people come through at once, if possible. And most pointedly, this shouldn't be a point of stress for you. Keep the guest list small enough that you aren't unnecessarily adding to your new parent exhaustion.
As for where to get sip and see invitations, you can create and print them yourself if you're crafty. But, rest assured, sites like Etsy, Minted, and Paperless Post all have cute no-fuss options.
What's the proper sip and see etiquette?
So, what if you've already had a baby shower? Can you still have a sip and see? Again, this is your call. Although many people choose to have a sip and see in lieu of a traditional baby shower, there's nothing to say you can't do both. If you don't have a baby shower, you can probably expect that guests will want to bring a baby shower gift to your sip and see.
If you do have a baby shower, you can simply leave your registry off of your invitation. Then, if guests bring a little something, you won't feel as though you have to open them and pass them around during the party. It's a good idea to have a table set up somewhere that lends itself to guests dropping gifts there if they choose to bring them.
What are some sip and see invitation and party themes?
Need a bit of inspo? Try one of these fun themes on for size:
Baby Does Brunch: Refreshments comprise all your favorite brunch foods. Plus, mimosas!
Donuts and Diapers: Ask guests to bring diapers and thank them with coffee and donuts.
Oh, the Places You'll Go: Have everyone sign the Dr. Seuss classic at this travel-themed party.
Bottles and Bubbly: Let the champagne (and milk for baby) flow as you toast your new arrival.
Something Sweet: As in, something sweet has arrived! Think macaroons and more.
A Star is Born: Your baby is a big deal, so make it an Oscar party event. Make everyone dress up in their finest and make it a Hollywood extravaganza. Pull out a red carpet and put gold stars on your baked goods.
Welcome to the World: One of the best parts of having a baby is introducing them to the amazing world around them. Turn your sprinkle into a trip around the globe. Get centerpieces inspired by Paris, hand out Chinese treats at the door, and turn tacos into the main course. Include decorations and food from all of your favorite places.
Candy Land: Nothing at the party will be sweeter than your little sugar plum, but a candy land theme is a yummy idea. Include sweets from your childhood as part of the decor. Give your guests a sugar high they'll never forget and create a party that has candy at every turn.
Are there sip and see party games?
Why not? Granted, since your baby has already arrived, that rules out a few of the traditional guessing games. However, this doesn't mean you can't have fun with alternatives to the classics. Even though a sip and see is chiller than a baby shower, it can still be a great time for games.
Pass around the Polaroid. Have a few funny glasses and hats lying around so your guests can take pictures with the baby. When they're done, they can write cute little notes on the back of the photo.
Who does the baby look like more? Hang baby photos of you and your partner and take a poll of who the baby looks the most like. The parent with the least votes has to do diaper duty for a week.
How many diapers have we changed so far? In this guessing game, guests write on a piece of paper the number of dirty diapers they think you and your partner have changed so far. The person with the closest guess wins a bottle of wine.
What are some other baby shower ideas?
If social distancing is still prudent when it comes time for your sip and see, you've got options. We now live in the Zoom-era, remember? Virtual baby showers are becoming increasingly popular for this very reason.
Or, if you just want to see people's faces in person, you could always have a drive-by sip and see. Set up a spot in your yard, on your porch, or in your driveway where you and baby can comfortably sit. Then, friends and family can drive by during the designated timeframe to wave and say hello from a socially distant six feet away.
Do you give gifts at a sip and see?
When it comes to sip and sees, baby registries aren't usually listed on the invitation since gifts aren't expected at this kind of party. The baby's already arrived, so the parents probably already have everything they need, right? Not quite. The truth is, parents can always use more of something when dealing with a newborn. So, if you're looking to give the new parents something, stay away from big classic items like cribs or strollers. Think of things that parents typically run out of or that are specifically for the parents. A few items new parents will love include:
Bibs
Diapers
Children's books
Onesies
Wine
The couple's favorite dessert
Special baby soap
Special baby lotion
A warm hat for the baby
Baby toys
Wipes
A gift card to the couple's favorite restaurant or clothing store
A baby sling
An Amazon Prime membership
A delivery meal kit membership
Socks for mom and dad (because you can never have too many socks)
Instant coffee
A smart device like an Amazon Echo or Google Home
An instant pot
Spa day coupons
This article was originally published on