Ollie-Oop! 10 Skateboard Coloring Pages Your Thrasher Will Be Stoked To See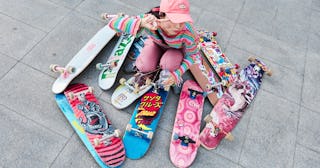 Isaac Chou/Getty Images
Skateboarding isn't a sport for the faint of heart. It's an adrenaline rush and can get dangerous in a hurry if you don't take proper safety precautions. However, it's also a ton of fun for kids and adults of all ages! Typically a male-dominated sport, there's been a massive movement recently to recognize the women who are making waves in the world of skateboarding. Names like Leticia Bufoni, Lizzie Armanto, Samarria Brevard, and Alexis Sablone are synonymous with the word success. Hard work and pure talent are some of the many reasons they're role models for little "thrashers" all over the globe. And if you've got a kiddo interested in skateboarding, whether they're a beginner or a pro, you might be in search of ways to stoke that fascination. Hey, we hear you! That's why we created a super-steezy collection of skateboarding coloring pages.
Or maybe your child is looking for a new hobby and isn't interested in team sports or anything with a ball. Well, now's the perfect time to think outside the box and introduce them to skateboarding — especially since skateboarding will make its Olympic debut during the summer 2021 games hosted in Tokyo, Japan. What started out as a niche trend has evolved into a worldwide sport played by millions. So, foster your future sk8 pro's passion by printing out the following skateboard coloring pages.
Want to earn even more cool parent cred after they grind these out? We recommend following them up with our video game coloring pages, robot coloring pages, anime coloring pages, and Pokémon coloring pages.
Free Printable Skateboard Coloring Pages
Skateboard Page No. 1
A T-rex on a skateboard — good for dino lovers and skateboarding pros. Fun fact: Humans could actually outrun this species. Wondering if you could outrun a T-Rex on a skateboard? We bet not.
Skateboard Page No. 2
Cats on a skateboard — there's gotta be something funny YouTube for this. Oh, wait! There totally is. Wanna see the famous skateboarding cat, Didga, from Australia? Check out these videos here, here, and here! After all, wasn't YouTube made for funny cat videos?
Skateboard Page No. 3
Did you know the first skateboards were made in the 1940s? Since then, it has become one of the world's most popular street sports, with a whopping 12.5 million skateboarders worldwide. And the boards themselves have naturally improved over time. Did you know some skateboards are made with up to seven layers of maple plywood? And before polyurethane wheels were invented, skateboard wheels were made from clay.
Skateboard Page No. 4
Like we mentioned above, skateboarding once was a male-dominated sport. Not so much anymore. The first-ever female pro skateboarder was Patti McGee, who became the first-ever Women's National Skateboarding Champion in 1964. She went on to rep for Hobie Skateboards and travel from town to town performing impressive skate demonstrations for the brand. Later, in 1965, she appeared on the Johnny Carson show and landed two magazine covers recognizing her monumental achievement.
Skateboard Page No. 5
Two of the main variations of skateboarding are street and vert. Street boarding is where skateboarders perform tricks on streets, sidewalks, rails, and anything within their immediate purview. They earn points for tricks — with more complex, the higher in point value. Vert is where skateboarders roll down a u-shaped ramp called a halfpipe, gaining speed and then performing tricks once they catch air.
Skateboard Page No. 6
Before skateboarding had its name, kids called it "sidewalk surfing" as they tried to recreate the sensation of surfing on land. It's evolved into what we now know as skateboarding today.
Skateboard Page No. 7
Here's something that might shock you: Skateboarders used to skate without shoes! Remember above when we said it was first called "sidewalk surfing"? Well, boarders wanted to live the experience of surfing on land, and part of that was going barefoot. Thankfully, shoes are now recommended.
Skateboard Page No. 8
Tricks have always been an integral part of skateboarding. As such, skateboarders are forever trying to break records and outperform one another. Jordan Hoffart holds the record for longest "ollie" ever performed — 16 feet and six inches! Alan "Ollie" Gelfand created this skateboard trick in 1978, and to this day, it's still one of the coolest moves a skateboarder can try. Of course, the skateboarder who set the standard for many modern thrashers is Tony Hawk. He's so revered in the sport that his first skateboard is in the Smithsonian National Museum of Natural History. Talk about a living legend!
Skateboard Page No. 9
Skateboards started out as rectangular planks of wood with wheels attached to the bottom. Over time, skaters realized that a rounded-off finish worked better, and skateboard manufacturers started researching ways to make boards more aerodynamic so skaters could go faster and perform more complex tricks.
Skateboard Page No. 10
Skateboarding has grown so popular in recent years that now you'll find skate parks in nearly every country in the world. That's a testament to how many people love this sport.
Click here to print all of the skateboard coloring pages at once!
This article was originally published on