Brrrr! 10 Adorable Snowman Coloring Pages For Frosty Days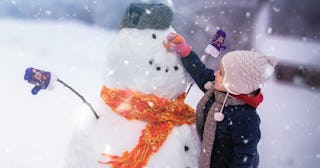 loops7/Getty Images
Oh, the weather outside is frightful. And, my dear, our kids are… just as freaking frightful. But we've got some free and easy DIY entertainment for you in the form of snowman coloring pages. So, you know, let it snow! (Let it snow! Let it snow!)
What do you do with your kids on wet, gray, blizzardy days? Once that snowstorm passes, you might be willing to bundle up your kiddos for a few minutes of fun in the snow. But when it's blustery and cold, sometimes it's just easier and certainly more comfortable to stay inside. Except if you have to hear Blippi giggle one more time, you'll pull your hair out. And, honestly, Peppa is kind of mean about her Daddy's "big belly." While all those lovely, well-thought-out activities on every other SAHM's blog seem fun and engaging, they also often require a ton of prep. If you're a WFH mom (or just understandably exhausted), all that prep time may not appeal to you.
Enter the one tried-and-true activity that almost all kids love, and that requires very little input from mom: Coloring. Coloring isn't just a blast; it's also beneficial for your kids. Sitting down at their little art tables and focusing on the page in front of them teaches things like hand-eye coordination and pencil grip. Coloring activities even help with school readiness because it exercises your kid's attention span and teaches them to sit still or follow directions. Also, did we mention that it's a relatively quiet activity?
These snowman coloring pages might be on-theme for the current situation outside the window, but they don't have to be your end-all, be-all. We've created an entire printables suite geared toward any imaginable weather or childhood interest you could imagine. For instance, if your kids finish these snowman coloring pages and are longing for spring, have a pretend spring day with sunshine coloring pages and flower coloring pages. (We even got super specific with tulip coloring pages and bold sunflower coloring pages because they're our favorites.)
Whatever their interests, from rockets to foxes, we have coloring pages for your kids. All it takes on your end is a few clicks. (And making sure there's paper in the printer.)
Free Printable Snowman Coloring Pages
Snowman Page No. 1
Fun fact: There's a world record for snowman building! In 2003, the people of Sapporo, Japan, built 12,379 snowmen and filled their small town. That broke the world record for the number of snowmen in one town. To celebrate their feat, the city holds a snowman festival every February.
Snowman Page No. 2
Did you know Michelangelo made at least one snowman in his life? After a significant snowfall during the Medici reign, the young heir summoned Michelangelo and demanded a snowman. The artist, of course, obliged. There's obviously no photographic evidence, but we imagine it was much better than anything we'd create.
Snowman Page No. 3
You're probably familiar with the "Which came first, the chicken or the egg?" debate. But do you know which came first out of "Frosty" the song and Frosty the movie? We always thought Frosty the Snowman (the movie) inspired the song and that they came out at the same time. We were quite wrong! The song about Frosty was released in 1950. It was so popular that they made a movie to accompany the song's story in 1969.
Snowman Page No. 4
Looking to burn off those cocoa calories? According to the publication "The History of the Snowman," one burns about 240 calories while spending an hour building Frosty.
Snowman Page No. 5
If 240 calories is impressive, check this out: The same publication says it takes about 10 million snowflakes to build a snowman. Honestly, that number still seems low.
Snowman Page No. 6
Another cool record for snowman building: The world's tallest snowman was built in Maine in 2008. It was actually a snowwoman that stood more than 100 feet tall and had actual trees for arms.
Snowman Page No. 7
Looking to build the best snowman possible? "Experts" suggest that the best possible snow for snowman building is snow that is almost to the point of melting. Wet snow packs best and will create a solid, somewhat long-lasting snowman.
Snowman Page No. 8
If you want an even better snowman, you could head to New York and talk to inventor Marc Asperas. He's known for filing a patent in 2006 for a "snowman building apparatus." Whatever it does exactly, we're sure it will come in handy, given the name, and we're guessing Asperas had quite a bit of building experience during his time working on the invention.
Snowman Page No. 9
The people of Zurich, Switzerland, prefer their snowmen to be, well, exploded. Each spring, they hold a festival to celebrate the end of winter. The grand finale? A giant bonfire topped with a fireworks-filled snowman. Yikes!
Snowman Page No. 10
While you're f-f-f-freezing your buns off building a snowman with your kiddos, know that you're taking part in a truly long and storied tradition. The first recorded instance of a snowman is in The Book of Hours from 1380.
Click here to print all of the snowman coloring pages at once!
This article was originally published on