100+ Funny, Cute, And Classic Snowman Names That Are Snow Joke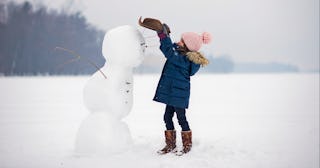 Stephanie Nantel/Getty Images
I don't know about you, but my kid happens to be obsessed with Frozen. That means that when it comes to snowman names, the one she clings to most is — you guessed it — Olaf. That said, before the film's 2013 debut, that seemed like somewhat of a silly name for a snowman. There's a good chance you grew up during a time when Frosty was king, and no other snowman came after his snow throne. But snowman names are like pet names; they can be anything. Of course, some of the best snowman names have to do with snow. Since kids often build snow-people around the holidays, it makes sense for those icy figures to take on Christmas-themed monickers.
But that doesn't always have to be the case. Is it the first snowfall of the season, and you're looking for a solid snowman name for you or your child's creation? With snowmen, there are no rules. You can go as wild as you want. But still, it's fun to have a name that's punny and appropriate. To help out, you'll find 100 solid name contenders below for your snowman this year.
But before building a snowman, it's important to know about famous snowmen in history. Yes, I'm being serious. Keep reading for some fascinating context, and then bookmark this page for snowman name ideas.
The History of Snowmen
Did you know that the very first snowman ever recorded was built in 1380? According to NPR, they probably occurred well before that without being documented. That means that, technically, each snowman you make is almost like a historical recreation. And that means that they all deserve a proper name, even though they might not have the longest life span.
Do snowmen deserve names? Of course. And, that's not just the 900 viewings of Frozen talking. Snowmen help build a child's imagination. Just like with people, each and every snowman is unique in its own way. They also help foster creativity and can become part of lifelong memories. Snowmen also aren't the easiest to construct, so consider a finished snowman somewhat of an accomplishment. Sure, they may look easy, but piling snow can require a ton of arm strength. That's why you might find yourself building a snowman alongside your child. It's something to do together that'll celebrate the winter season.
Maybe that's one of the reasons why Frozen is so popular — it taps into everyone's creative potential during a time when schools often get canceled due to snow. Just know that you're never too old to build a snowman. It can even be a form of stress relief or a way to feel nostalgic. Along with your snowman, you'll also need a mug of hot chocolate to really take in the moment. Now, onto the fun part: name-picking!
Classic Snowman Names
Frosty
Olaf
Yeti
Snowy
Snow White
Holly
Holly Berry
Freezy
Chilly
Mr. McChilly
Calvin
Bilbo
Merry
Powder
Blizzard
Polar
Casper
Comet
Avalanche
Carol
Ebenezer Scrooge
Sir James Clark Ross
Cupid
Elsa
Anna
Sven
Isis
Tinsel
Donner
Marshmallow
Blitzen
Jack Frost
Jacob Marley
Max
Krampus
Nicholas
Sir Ernest Henry Shackleton
Buddy
Jack Skellington
Zero
Ice Ice Baby
Funny Snowman Names
Jon Snow
Snowlivia Wilde
Snowlivia Rodrigo
Brittany Snow
Hank Snow
Phoebe Snow
Cold Sprouse
Poison Icy
Coriolanus Snow
Tim Ice
Cold-y Kardashian
Anne Ice
Cold Deboer
Cold Porter
Snowlivia Newton John
Snowbiz
Cold Hamels
Snowen Wilson
Crispin Glover
Amy Polar
Stick Stickly
Chillateo Sanz
Ice Cube
Ice-T
Stone Cold Steve Austin
Edward Snowed In
Vanilla Ice
Meltin' John
Eddie Blizzard
Netflix and Chill (perfect for a pair!)
Snowman Names That Relate to Winter
Bianca
Blanche
Crystal
Frostine
Iclyn
Noelle
Neve
Oakley
Wren
Winter
North
January
December
Frost
Aspen
Storm
Cute Snowman Names
Snow Bunny
Snowflake
"Chilly" Pepper
Apricot
Steve
Bluey
Snowball
Hank
Hobbes
Stormy
Hailey
Homer
Rick
Morty
Belle
Cole
Big Chill