70+ Sports Motivational Quotes To Inspire Victory In Your Young Athlete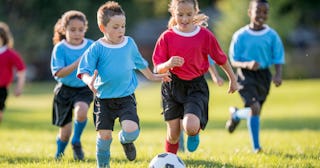 FatCamera/Getty Images
Do you have a young athlete at home? If so, you know the benefits of playing youth sports: social and motor skill development, physical fitness, sportsmanship, teamwork, discipline, and self-confidence. It doesn't matter what the sport is; the positive effects are the same, nonetheless. If you're on the fence and wondering whether you should enroll your child in a class or sign them up for a sports team, motivational quotes may give you (and your little athlete) the help you need to guide your decision. Extracurricular activities look a little different in 2021 for everyone, but playing sports is still a possible — and worthwhile — pursuit. And did we mention super fun, too?
If you like these words of wisdom from famous athletes and other motivational speakers, check out our running quotes while you're at it. Looking for something a bit more lighthearted? See our sports jokes page for a side-splitting laugh. Want a mixture of wise words and wisecracks? Then our Ted Lasso quote collection is a must-read!
Ready for the quotes? Get fired up with the following sports motivational quotes.
Sports Motivational Quotes to Give You a Competitive Push
"Never say never because limits, like fears, are often just illusions." — Michael Jordan
"The harder the battle, the sweeter the victory." — Les Brown
"Passion first, and everything else will fall into place." — Holly Holm
"Winning means you're willing to go longer, work harder, and give more than anyone else." — Vince Lombardi
"You miss 100 percent of the shots you don't take." — Wayne Gretzky
"Ability is what you're capable of doing. Motivation determines what you do. Attitude determines how well you do it." — Lou Holtz
"Run when you can, walk if you have to, crawl if you must. Just never give up." — Dean Karnazes
"The more difficult the victory, the greater the happiness in winning." — Wayne Gretzky
"There may be people that have more talent than you, but there's no excuse for anyone to work harder than you do." — Derek Jeter
"Obstacles don't have to stop you. If you run into a wall, don't turn around and give up. Figure out how to climb it, go through it, or work around it." — Michael Jordan
"If you are afraid of failure, you don't deserve to be successful." — Charles Barkley
"Without self-discipline, success is impossible. Period." — Lou Holtz
"Everything negative — pressure, challenges — is all an opportunity for me to rise." — Kobe Bryant
"Winning isn't everything, but wanting to win is." — Vince Lombardi
"It's not whether you get knocked down; it's whether you get up." — Vince Lombardi
"Do you know what my favorite part of the game is? The opportunity to play." — Mike Singletary
"I've failed over and over and over again in my life, and that is why I succeed." — Michael Jordan
"Only he who can see the invisible can do the impossible." — Frank L. Gaines
"If you can't outplay them, outwork them." — Ben Hogan
"The difference between the impossible and the possible lies in a man's determination." — Tommy Lasorda
"I'd rather regret the risk that didn't work out than the chances I didn't take at all." — Simone Biles
"I really think a champion is defined not by their wins, but how they recover when they fall." — Serena Williams
"Today I will do what others won't so tomorrow I can accomplish what others can't." — Jerry Rice
"Success isn't owned; it's leased. And rent is due every day." — J.J. Watt
"You have to enjoy what you're doing in order to be successful." — Misty May-Treanor
"It's hard to beat a person who never gives up." — Babe Ruth
"An athlete gains so much knowledge by just participating in a sport. Focus, discipline, hard work, goal setting, and of course, the thrill of finally achieving your goals. These are all lessons in life." — Kristi Yamaguchi
"Well, the first quality of being a good leader is you have to be able to follow. See, a good leader can't just be the leader all the time; I have to be able to follow." — Lisa Leslie
"You can't win unless you learn how to lose." — Kareem Abdul-Jabbar
"I really get motivated when I have doubters." — Shaquille O'Neal
"Have faith in yourself and go take that first step. If I could, so can you." — Heena Sidhu
"Talent wins games, but teamwork and intelligence win championships." — Michael Jordan
"A champion is simply someone who did not give up when they wanted to." — Tom Landry
"The critics are always right. The only way to shut them up is by winning." — Chuck Noll
"Dancers are the athletes of God." — Albert Einstein
"Every time I step on the field, I'm going to give my whole heart, regardless of the score." — Tim Tebow
"Dance is the hidden language of the soul." — Martha Graham
"Keep working even when no one is watching." — Alex Morgan
"You'll never know what you're capable of until you take that first step and just go for it." — Natasha Hastings
"We don't want to tell our dreams. We want to show them." — Cristiano Ronaldo
"Nobody who ever gave his best regretted it." — George Halas
"Set your goals high and don't stop till you get there." — Bo Jackson
"One man practicing sportsmanship is far better than 50 preaching it." — Knute Rockne
"An athlete cannot run with money in his pockets. He must run with hope in his heart and dreams in his head." — Emil Zatopek
"Somewhere behind the athlete you've become and the hours of practice and the coaches who have pushed you is a little girl who fell in love with the game and never looked back… play for her." — Mia Hamm
"Make sure your worst enemy doesn't live between your own two ears." — Laird Hamilton
"Most people never run far enough on their first wind to find out they've got a second." — William James
"Champions keep playing until they get it right." — Billie Jean King
"What you lack in talent can be made up with desire, hustle, and giving 110 percent all the time." — Don Zimmer
"If you fail to prepare, you're prepared to fail." — Mark Spitz
"You are never really playing an opponent. You are playing yourself, your own highest standards, and when you reach your limits, that is real joy." — Arthur Ashe
"The more difficult the victory, the greater the happiness in winning." — Pele
"Most talented players don't always succeed. Some don't even make the team. It's more what's inside." — Brett Favre
"You've got to take the initiative and play your game. In a decisive set, confidence is the difference." — Chris Evert
"When you win, say nothing. When you lose, say less." — Paul Brown
"You win some, you lose some, and some get rained out, but you gotta suit up for them all." — J. Askenberg
"To uncover your true potential, you must first find your own limits and then you have to have the courage to blow past them." — Picabo Street
"Show me a guy who's afraid to look bad, and I'll show you a guy you can beat every time." — Lou Brock
"My motto was always to keep swinging. Whether I was in a slump or feeling badly or having trouble off the field, the only thing to do was keep swinging." — Hank Aaron
"Your biggest opponent isn't the other guy; it's human nature." — Bobby Knight
"Just keep going. Everybody gets better if they keep at it." — Ted Williams
"Push yourself again and again. Don't give an inch until the final buzzer sounds." — Larry Bird
"You can't put a limit on anything. The more you dream, the farther you get." — Michael Phelps
"Wisdom is always an overmatch for strength." — Phil Jackson
"Some people say I have attitude. Maybe I do, but I think I have to. You have to believe in yourself when no one else does — that makes you a winner right there." — Venus Williams
"Today, you have 100% of your life left." — Tom Landry
"A trophy carries dust. Memories last forever." — Mary Lou Retton
"It is not the size of a man but the size of his heart that matters." — Evander Holyfield
"Victory is in having done your best. If you've done your best, you've won." — Billy Bowerman
"When you're riding, only the race in which you're riding is important." — Bill Shoemaker
"Number one is just to gain a passion for running. To love the morning, to love the trail, to love the pace on the track. And if some kid gets really good at it, that's cool too." — Pat Tyson
"Never give up, never give in, and when the upper hand is ours, may we have the ability to handle the win with the dignity that we absorbed the loss." — Doug Williams
"The only yardstick for success our society has is being a champion. No one remembers anything else." — John Madden
"There are only two options regarding commitment. You're either in, or you're out. There is no such thing as life in-between." — Pat Riley
"The key is not the will to win. Everybody has that. It is the will to prepare to win that is important." — Bobby Knight
This article was originally published on