The Most Extra Pool Floats You Absolutely Need This Summer (Before They Sell Out)
by Anna Baboval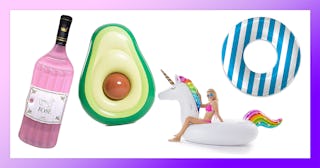 Amazon
Summer is nearly here, and that means it's time to break out the pool floats again! As the temperature rises, we're spending more time outside in the backyard. Whether it's on the swing set or in the swimming pool, our kids are going to want the coolest backyard gear this year, and that includes super fun pool floats. Pool floats, (just like kiddie pools, water tables, and everything else for the yard) are selling like hotcakes this summer. Us mamas are in a mad dash to pimp out our pools with the end goal of keeping everyone entertained. Aka no asking for snacks 24/7 or hearing the ever mind-numbing "I'm booooored!"
RELATED: 12 At-Home Ball Pits For Kids— Leave Those Icky Public Germs Behind
Pool toys for kids are just that, toys! We love a good pool float for laying around and relaxing on a hot day, but our kids, not so much. For kids it's all about making up games and "shows" – igniting their creativity with whatever cute prop they can find, which gives us plenty of time to read poolside (while keeping a watchful eye of course). Since not all pool floats are created equal, when purchasing for kids we recommend inflatable pool toys (save yourself the trouble and get the pump too!).
RELATED: 10 Best Infant Pool Floats With Built-In Sun Canopy For Chillin' By The Water
We also love the idea of multi-person floats so there's no fighting and plenty of space for everyone. Way to be the most fun mama in the neighborhood with a giant floating unicorn in your pool! We've rounded up 26 of the best pool floaties to accessorize the pool and keep the whining to a minimum (yup there's something for everyone)!
Best Pool Floats
Fun Pool Floats
"
Inappropriate Pool Floats
Large Pool Floats
2-Person Pool Floats
Pool Floats With Cup Holders
River Floats
Luxury Pool Floats
Finished accessorizing the pool? Check out all of our other mom approved kids gear for more summertime backyard fun.