The Best 9th Anniversary Gifts That Aren't Just Pottery Classes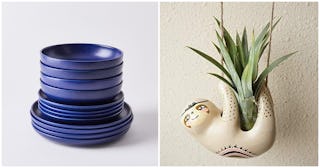 Food52/Amazon
It's not celebrating ten years quite yet, but your 9-year anniversary gift is still important! First things first: You deserve a serious applause for almost making it to year 10 of marriage. Chances are, it hasn't been anything close to easy, but you wouldn't have it any other way. Well, maybe, but that's not the point! The time has finally come to celebrate your anniversary and year nine of marriage — and the fact that your nuptials were almost an entire decade ago. While it might not seem as exciting as year 1 or your 5th anniversary, or quite as accomplished as year 10 will feel, there's no denying that it's 100 percent worth celebrating and spoiling each other with gifts.
Traditionally speaking, year nine is when you give gifts of pottery and willow wood. Seeing as you probably have no clue what willow wood is (it's the material used to make rattan and wicker), it might be a good idea to stick to pottery (or take a pottery class!) — or just scrap tradition altogether and give your partner something that they will actually use and appreciate.
To help inspire you, we're sharing a list of some of the best 9th wedding anniversary gifts.
Best Pottery Anniversary Gifts
Best 9th Anniversary Gifts
Looking for more gift inspiration? Check out our gift guides page for more great finds.