The Best Above-Ground Pool Ladders For Safety And Accessibility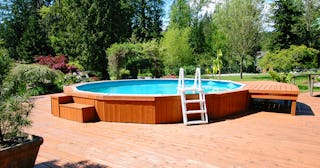 Getty Images/ DigiStu
Pool steps for your above ground pool might not currently be in your shopping cart, but they sure as heck should be. If you plan to revisit the backyard pool bandwagon nearly everyone hopped on last summer, you also need to consider some safety upgrades. (And if you're looking for an above ground pool vacuum, we've also got ya covered)
2020 had us all in survival mode, desperate for any entertainment, and we weren't exactly discerning about what supplies we were able to get our hands on. This year is looking a little different, and if you are setting up a pool again, it's important to make sure you are taking all the necessary precautions to keep everyone safe. This includes pool alarms, life jackets, UV protection, and yes, even an escape ramp for tiny critters.
According to the United States Consumer Product Safety Commission, about 10,000 people annually will seek emergency room care due to injuries related to above-ground pools. The commission recommends using pool ladders made with non-slip materials, and choosing options that offer handrails on both sides, making it easier for children to grasp.
Pool stairs run the gamut, from basic to extremely fancy, but no matter which style you choose, they are an essential accessory that offers an added measure of security when swimming.
Best Above Ground Pool Ladders
Best Above Ground Pool Steps
Best Pool Stairs
This article was originally published on