Activity Tables To Keep Babies & Toddlers Busy Through Your 2nd Cup Of Coffee
by Anna Baboval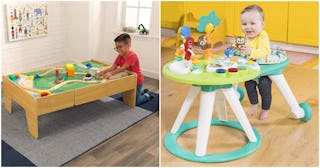 Amazon
Kids activity tables have built-in toys and games to keep babies and toddlers entertained for long-term fun. (To clarify, these are different from a kid-sized table and chairs set that are perfect for doing puzzles, building with LEGOs, or using coloring books). Activity tables build dexterity and fine motor skills while developing imagination, inquiry, and independent play. There is no hard and fast rule as to what makes a great activity table; some are wooden with handmade interactive parts, others are fully digital, and some are just well-planned imagination stations to get the creative juices flowing. No matter what style of activity table you choose, the rewards are worth the investment. Babies and toddlers spend hours engaged with their activity tables, and many toddler tables work well into the preschool years and beyond. It's also a smart way to help your kiddos stay busy inside when the weather's too rainy, or even too hot, for wading in the inflatable kiddie pool.
What is the best activity table for a baby / What is the best activity table for a toddler?
When shopping for an activity table for babies, keep in mind they love ones with gears and moving parts, music, and animals. Bright colors, fun patterns, and things that can be touched are key. Whereas toddler activity tables can focus more on preschool readiness through stories, music, letter and number instruction, or developing motor skills and imagination through building and design.
Figuring out what the desired outcome of the activity table is before beginning to shop is essential. Some mamas we know wanted ones that had very few removable parts (aka less mess to clean up in the playroom!) and others wanted ones that played music and stories to keep the littles entertained.
With so many options it's hard to know which one will work perfectly for your LO. To help sift through the chaos we've curated a list of our favorite baby and toddler activity tables in a variety of styles (some not even requiring batteries!). So go ahead and make (and enjoy) that second cup of coffee while BB is happily entertained!
P.S. If you're looking to combine the entertainment value of an activity table plus splashy summer fun, check out our favorite toddler water tables for the best of both worlds!
Best Baby Activity Tables
Best Toddler Activity Tables
Best Toddler Play Tables
Best Activity Desks For Toddlers
Looking for more great playroom must haves? Check out all of our mom approved kid gear!
This article was originally published on