This New Alexa Skill Is A Joke
by Dana Baardsen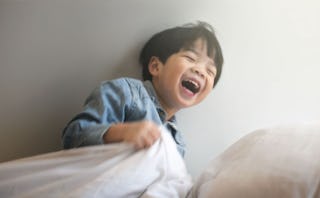 Twomeows / Getty
You read that right: Scary Mommy just dropped our very own Amazon Alexa skill (yeah, we feel special) that will make your kid laugh for hours on end. We brought our funniest writers and moms together in the same room, and the result was a massive list (including classics and originals) of hundreds of kid-appropriate jokes that adults find funny, too. Then we took the list, snapped our fingers, and it became available as a download for anyone or any kid with an Alexa device.
P.S. If your kiddo doesn't have an Alexa device at home, we'd recommend the Amazon Echo for Kids. It comes in rainbow and does just about everything except make dinner and fold the laundry.
Here's How It Works
If you don't have the Amazon Alexa app on your phone, download the app from the app store on your device.
Alternatively, if you don't have the app, follow the link to open the Amazon Alexa webpage in your browser and log into your Amazon account. Once you've logged in, you'll be prompted to download the app.
If you already have the app, enable our skill "Best Jokes For Kids By Scary Mommy".
Once you're set up and have enabled the skill, all you (or your kid!) have to do is say, "Alexa, open Scary Mommy Jokes", "Alexa, start Scary Mommy Jokes," or "Alexa, ask Scary Mommy Jokes for a joke."
Just like that, your device will rattle off kid-appropriate jokes that might make you laugh just as hard. But you know what will really get you in a good mood? The fact that your kid will literally be distracted with this for hours on end, especially during play dates. Trust us: You've never experienced gigglefests quite like this. Plus, there's the added bonus of your kids never needing to ask you thing like "Why do ducks have tail feathers?" ever again. (To cover their buttquacks, obviously.)
The "Best Jokes For Kids By Scary Mommy" Skill Is Kid-Appropriate
The parental controls available for Amazon Alexa devices are hardcore, and our Alexa skill is kid-approved. You can easily have a little chat with "Alexa" to set time limits, filter music settings, review activity, and more. Amazon makes it easy for parents to manage parental consent. We made sure our skill meets certain content standards so your kid can activate our jokes skill on their own, at any time, without you worrying about a thing. (Because let's face it, Scary Mommies aren't always naturally filtered!)
So, be sure not to miss out on the funny. And in your spare time (lol) drop us a review and let us know which jokes your kid likes the best!
This article was originally published on