The Best 'Among Us' Gifts For All The Crewmates And Imposters On Your Ship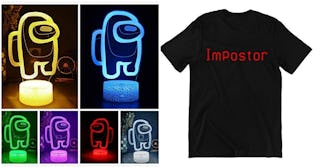 Amazon
Did you finally finish the task of discovering the best Among Us gift for your imposter obsessed gamer with the best toys and merch available? Do you get why crewmates call emergency meetings? Then you know someone who will go galactic for these Among Us gifts. As the hottest game of teamwork and betrayal, Among Us has also hit playgrounds across the country as Space Mafia. The IRL version is kinda like tag. Kids run around calling emergency meetings to catch the imposter. And as a parent, it's endlessly entertaining to watch. So go ahead, leave your phone in your pocket. Because you are not going to want to miss this show. Regardless if you know Among Us as a phone app or schoolyard game, we've got the best Among Us gifts for your crewmates.
We've found these best Among Us toys and merch from dress-up masks and pajamas, to stuffies and personalized mugs. This stellar Among Us swag will make your crewmates call an emergency meeting — just to show off these best Among Us gifts. Insider tip: sneak into a game (there are private codes you can enter to join specific rounds) and surprise your kids! Your gamer will be delighted, and you will have a blast.
Best 'Among Us' Gifts
Best 'Among Us' Toys and Merch
Now you've nailed finding the best Among Us gifts, need help finding more out of this world stuff our kids are into these days? We've got all the best kid gear for you here!