These Adorable Baby Jean Jackets Will Make You Want To Match With Your Mini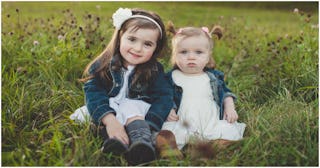 Getty Images
Baby jean jackets are finally in season, so let the Insta-posting commence! Now that you've officially put your baby's snowsuit and snow boots away (yay!), it's time to dust off those spring clothes you stocked up on at the tail end of last year's seasonal sale. Even though spring weather is a far cry from the coldness that winter brought on, depending on what part of the country you're from, chances are, you will still need to invest in a light jacket or coat for your baby boy or girl. (Don't forget to get 'em some fresh kicks, too!)
Since you obviously want your little to look fly while you're touting them out and about this spring and summer, you should definitely invest in a jean jacket that not only goes with pretty much everything, but will also make the most Instagram-worthy pics. Yep—they make pint-sized jean jackets for babies, and whether you choose one that's slightly distressed or features your LO's favorite Disney characters, they're just as cute as you'd imagine them to be.
Because you could spend all day and night scrolling through the endless denim coat options for fashionable peanuts, we're simplifying the process for you. Here are the best baby jean jackets on the market to carry your cutie all the way through spring and summer.
Best Baby Jean Jackets
Baby Boy Jean Jackets
Baby Girl Jean Jackets
Check out more cute baby clothes for spring, summer, and beyond.
This article was originally published on