These Baby Shower Favors Are Pinterest-Perfect & Easy To Give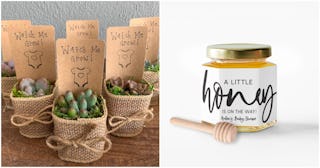 Etsy
Finding best baby shower favors might seem like a low-priority task when you're planning a baby shower, and of course, tackling the behemoth task of creating your registry. After all, your shower is about celebrating the person growing inside your belly — and stocking up on cute newborn outfits, of course. And while it's true that the whole point of the party is to shower you with gifts (preferably while you're wearing a gorgeous baby shower dress), showing your friends and fam that you put some thought into their party favor will definitely come in handy the next time you need a last minute babysitter. And since these are the people who will make sure you have all the best baby gear that their hard-earned money can buy, a little thank you gift isn't out of the question.
Related: The Best Maternity Summer Dresses, Because Pants In The Heat = Hell
Believe it or not, some people actively hate baby showers. I guess if you don't like babies, or don't understand babies, then all the oohing and ahhing over frilly rompers and absorbant burp cloths is a bit much. But my theory is that the right combo of good food, festive cocktails, and unexpectedly cute or useful baby shower favors will pacify even the crankiest party guests. So whether you're planning your own shower or helping someone with theirs, here are the best baby shower favors to hold your guests over until they meet your little bundle of joy, which is the best gift of all.
RELATED: Forget Manual Cranks — It's Time To Upgrade To One Of These Electric Can Openers
Best Baby Shower Favors