14 Baby Slippers To Keep Little Tootsies Toasty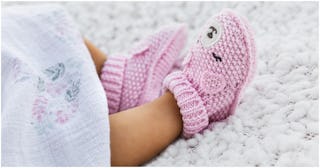 Getty Images/Evgeniyaphotography
Baby slippers are a great alternative to shoes if you want your little one's toes covered. Babies can certainly rock a cool pair of kicks, but until they start walking, they really don't need them. And even then, it's always nice to have something cozy for their feet. But unlike the fuzzy slippers you might get for yourself — or even for an older kid — you'll want to get your babe something that actually stays on.
Socks are an obvious go-to to keep tootsies warm, but when you're out and about in chilly weather, those little feet are going to need more layers. That's where slippers or booties come in handy (er –footy?). Don't let the terminology confuse you, as they can pretty much be used interchangeably. However, booties often have a snap or velcro closure to secure them onto kicking baby feet. In addition to keeping them warm, they can help babies get a feel for real shoes, and many of them have gripped bottoms for safety as tots take those first steps. Slippers typically don't have a snap or velcro around the ankle but are a little easier for new walkers to slip on and off (whether that's a good thing is up to you).
There are different types of slippers to consider — newborn booties will generally be softer and used for warmth, while booties or slippers for babies just learning to walk will have more structure for support and grips to help keep them grounded. Below you'll find our list of the best slippers and booties for boys and girls, as well as the best options with grips.
Best Baby Slippers
Best Baby Boy Slippers
Best Baby Girl Slippers
Best Baby Slippers With Grips